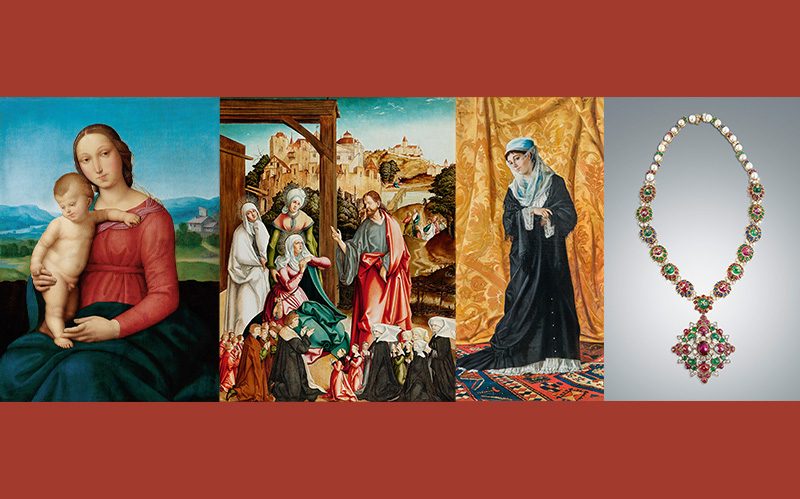 Old Master Paintings, 19th Century Paintings, Works of Art and Jewellery will be the focus of the third auction week from the 22nd to the 24th of October 2019 at Dorotheum in Vienna. This time the auction house will feature some very special highlights!
At the centre of the Old Masters auction on the 22nd of October will be a painting of exquisite quality, the Madonna with Child. Through extensive research and technical analysis, this painting has been confirmed as a work of the greatest interest. The picture has a distinguished provenance having remained in the same aristocratic family collection for generations.
It has been dated to around 1504 and is regarded as a high-quality example of a Raphael composition. Whether or not it was executed under his supervision remains an open question. The confidence of the draughtsmanship and the refinement of technique displayed in this work can be compared to Raphael's earliest style of painting. Several notable details in the treatment of the subject are also highly reminiscent of his work, and technical analysis also suggests a very close affinity to his autographed body of works. Little is known of Raphael's early working practice, especially as attributions for many of his works from this period are subjects of scholarly debate, with paintings often removed from and added to his corpus of works.
A definitive attribution for this painting remains uncertain and subjective as attributions of undocumented works are based on opinions, which may change. Nevertheless the possibility that the young Raphael worked on this painting should be taken into consideration as this work is of great quality and executed with an impressive ability.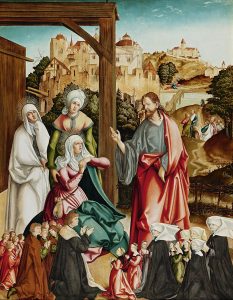 Other highlights of the auction include a painting by the Italian baroque painter Giacomo Ceruti, Soldiers Playing Cards. After the sensational success of her Lucrezia at the Old Master Auction last April, there is once again a painting by Artemisia Gentileschi, David with the Head of Goliath.
Mythological and Christian motives are represented in works from Germany (Jörg Breu I. Christ Taking Leave of His Mother with an early depiction of the city of Passau with Oberhausen Castle, estimate €150,000 – €200,000) and the Netherlands (Anthony van Dyck St. Andrew, estimate €200,000 – €300,000).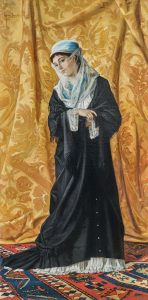 An exceptional highlight from the 19th Centuy Paintings auction is a work by the leading Ottoman artist of the late 19th century, Osman Hamdi Bey. His Dame Turque de Constantinopel combines Parisian charm and Turkish flair. Hamdi Bey was born in 1842 in the Ottoman Empire. He studied in Paris and went on to shape the cultural life of Turkey in the second half of the 19th century like no other. He is considered the founder of modern Turkish painting and did pioneering work as an art patron, museum director, archaeologist and conservator of national cultural heritage.
Picturesque landscapes and atmospheric city views are very popular among the painters at the auction: Ivan Konstantinovich Aivazovsky and Josef Rebell offer coastal views. Giovanni Grubas and Ludwig Hans Fischer illustrate Venice, Jakob Alt paints Verona and Petrus van Schendel shows us the bustling night life of the The Hague. In addition, everyday scenes and portraits of the bourgeoisie complement the selection: In Gaetano Chierciani's painting Una Catastrofe, a shaky bench caused a stir.
Antiques: Layered Perfection and Artistic Skill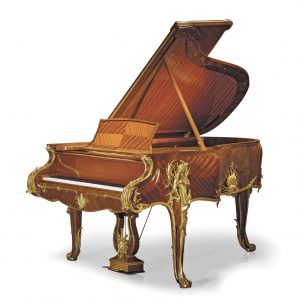 Anyone who owns a piece of furniture by François Linke also owns an object by one of France's leading turn of the century cabinetmakers. Linke ran his own workshop in Paris and primarily created furniture based on famous models from the Louis XV and Louis XVI epochs, but modified and exaggerated the magnificent designs. The Steinway grand piano by Francois Linke, which will be auctioned on 24 October, is a rarity and its estimated value is € 100,000 – 150,000
Jewels: Various combinations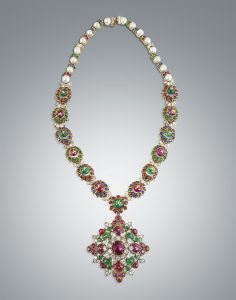 Founded in 1896 by Alfred van Cleef and Salomon Arpels in Paris, the brand "Van Cleef and Arpels" has achieved worldwide recognition. At the auction on 23 October, a set of jewellery will be offered, which can be worn in different variations: as a necklace, pendant, brooch and bracelets. Diamonds, coloured stones and pearls of outstanding quality were used. The estimated value of this set is € 30,000 – 50,000.
INFORMATION about the AUCTIONS
Old Master Paintings I
22nd October 2019, 5 p.m.
Old Master Paintings II
22nd October 2019, 6.30 p.m.
Juwellery
23th October 2019, 2 p.m.
19 Century Paintings
23th October 2019, 5 p.m.
Works of Art – Furniture, Sculptures, Glass and Porcelain
24th October 2019, 2 p.m.
Exhibition
Old Master Paintings and 19th Century Paintings
12th October 2019 – 24th October 2019
Works of Art and Juwellery
4th October 2019 – 24th October 2019
Palais Dorotheum, Dorotheergasse 17, 1010 Vienna
Client Advisory Service
If you have questions about the auctions please contact our Client Advisory Service!
Tel +43-1-515 60-570, Fax -489
client.services@dorotheum.at
Read more about the highlights here!
View now our new myARTMAGAZINE!