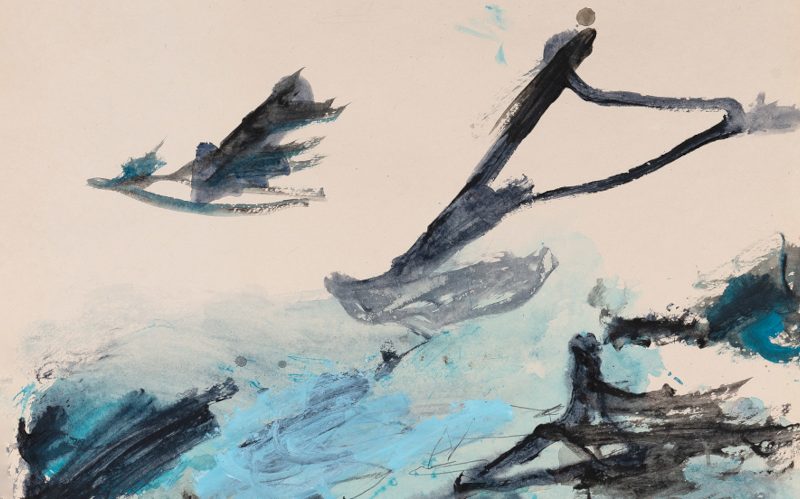 Expressive yet poetical: In his studio on the Gulf of Gaeta in his adopted country Italy, US-born artist Cy Twombly (1928–2011) created a series of impressive paintings. One of them is up for auction at Dorotheum's May auction of Post-War and Contemporary Art.
Executed in 1981, Untitled (Formia) marks the beginning of a new artistic phase for Cy Twombly's work in terms of place of inspiration. It was in 1981 that he rented a studio in Formia, a town on the Gulf of Gaeta between Rome and Naples. Only four years later, he purchased a house overlooking the harbour of Gaeta, which states the importance of this spot as inspiration for his work. It is known that, from 1985, the year in which he restored the house, expanded it and used it as a studio, until his death in 2011, Twombly executed an important series of artworks in this atelier, including paintings like Venere sopra Gaeta (1988), Cycle of Nine Green Paintings (shown at the 43rd Venice Biennale in 1988), Summer Madness (1990), the Quattro Stagioni Paintings (1993/94) and many sculptures like Thermopylae (1991), to mention just a few. In the garden, Twombly created a landscape of lemon trees conceived as a collection of garden rooms.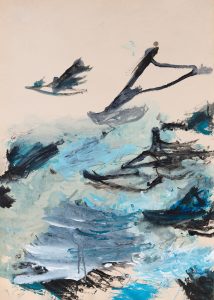 The brush strokes in Untitled (Formia) contrast with the scrawled ciphers and scratches of his earlier paintings. The vibrancy of the strokes generates a dynamic rhythm that is typical of his œuvre and suggests relentless motion. It represents the infinity of the marine motion. To evoke the essence of the sea, the artist restrains his palette to tones of blue and some black, while the thickness and richness of the paint traces the tempestuous movements of the sea water. A vessel-like object appears in the upper central area of the composition: the sense of movement of the boat is accentuated by diagonal brush strokes and the profile of a sail headed in the opposite direction. Untitled (Formia) captures the wildness and dramatic nature of the sea, its unpredictability and infinity. Once again, Twombly calls attention to the surface of the composition, managing to depict depth by simultaneously layering and juxtaposing gestural strokes.
Like other works executed in the early eighties, Untitled (Formia) embodies a style in which the composition is monochromatic and the surface is mostly painted by thick layers of paint that incorporate the sense of motion that is characteristic of the artist's œuvre. In Untitled (Formia), the power of the sea is vibrant and immense.
Flaminia Allvin is Specialist for Modern and Contemporary Art at Dorotheum.
Explore the auction catalogue now and read our new myART MAGAZINE!