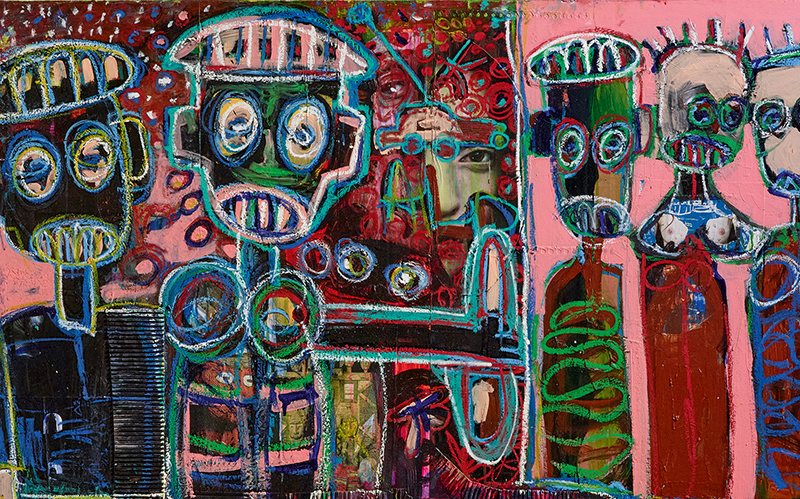 Aboudia is a big name in contemporary African art. His painting style, which he describes as "noutchi", combines graffiti and West African wood carving while referencing civil war and street children in the artist's native Ivory Coast. Aboudia's language is universal.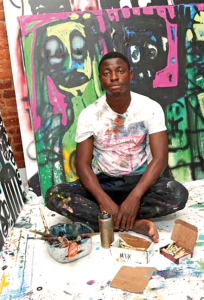 An electrifying mix of African street style and West Coast avant-garde against the background of a remarkable biography: born 1983 near Abidjan, the former capital of the Ivory Coast, Abdoulaye Diarrassouba, aka "Aboudia", is a big shot in contemporary African art. To pigeonhole the 40-year-old artist as the new Basquiat would miss the point. His œuvre has been celebrated in the Western art world and compared to the work of Cy Twombly and Dubuffet, but what it actually alludes to in style and content is the artist's native, crisis-ridden homeland, which has seen many years of civil war since the beginning of the third millennium. Yet Aboudia's art speaks a universal language, with tones of pathos and empathy as well as aggression.
Aboudia's multi-layered paintings, enhanced with found materials, seek to address burning issues such as the life of street children and child soldiers. Deeply affected by the children, who are as lost as they are strong and joyful, the artist enables them to temporarily escape their drab life through his graffiti. Aboudia himself left his family aged 15 after winning an art competition at school and attended an art school in Bingerville, frequently sleeping in the classroom. He then went on to study art in Abidjan. His way of returning something to those who inspire him is in his Aboudia Foundation, which has supported street children since 2018.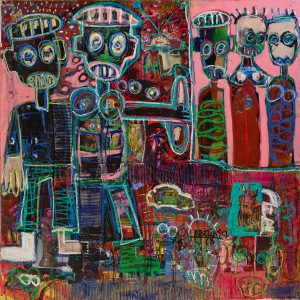 "Deux amis noutchi" ("Two noutchi friends") from 2019  will be for sale at the upcoming Dorotheum auction of Post War and Contemporary Art on 1 June 2022. The title contains a term that is central to Aboudia's œuvre: "noutchi". Originally a word from a West African language, denoting "moustache", the word "noutchi" developed through the street language of Abidjan into a slang term alluding to the world of western movie villains who were emulated in the streets of the city. Aboudia uses "noutchi" to describe his style, which takes its cue from the city's graffiti and traditional West African wood carving. And by the way, it is also the name of the artist's dog.
Author: Doris Krumpl is Press Officer at Dorotheum.
Information: Alessandro Rizzi, Specialist for Modern and Contemporary Art