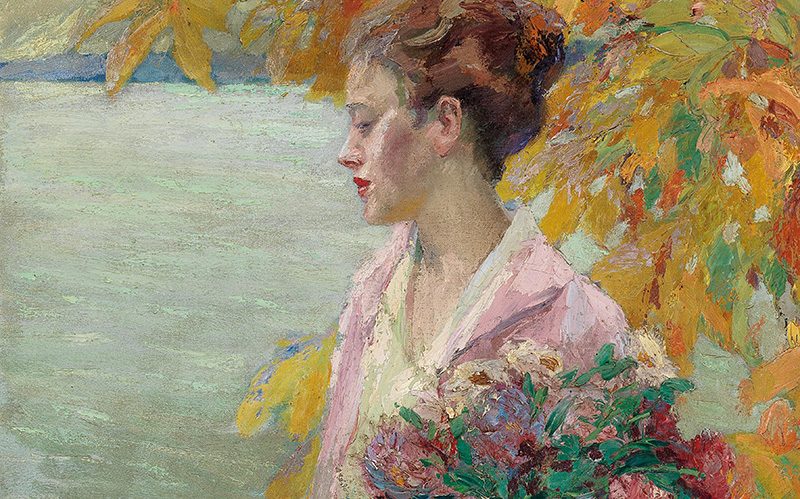 Autumn walk by Edward Cucuel
 Edward Cucuel's "Autumn Walk" depicts an atmospheric scene of young bouquet-bearing beauty, wearing an enigmatic expression before a placid lake. Marrying Cucuel's artistic training in San Francisco with his membership of the Munich secession -a  movement which rejected traditional history-painting – it exudes the new style of painting en plein air, to which Cucuel was introduced by his friend Leo Putz, the most prominent member of Bavaria's 'Scholle' group. Putz and Cucuel spent four years together at Hartmannsberg Castle at Lake Chiemse, before the "Scholle" disbanded in 1911. Their spirt of individualism and youthful vitality was developed by followers in the "Brücke" and "Blauer Reiter" circles. 
Enjoying early success, Cucuel exhibited in Düsseldorf in 1902,in Berlin in 1907 and at the 'Glaspalast' in Munich. In 1912 he took part for the first time at the Munich Secession Exhibition and in the same year exhibited at Paris's prestigious Salon des Beaux Arts. At the world exhibition in San Francisco 1915 he won the silver medal for his painting 'Winter Sun'. Exhibitions in New York and London followed in 1921 and 1922. His works can be found in the most important museums and public collections worldwide, among them the Rochester Museum, Toronto, the Birkenhead Museum, Liverpool, the National Academy, New York and the Chicago Art Institute. Cucuel's vivid painting style with strong, pastose colours is redolent of French Impressionism, yet his mysterious portraits of women, which exude a magical atmosphere, remain unique and sought-after collector's items today.
MODERN ART
24. November 2020