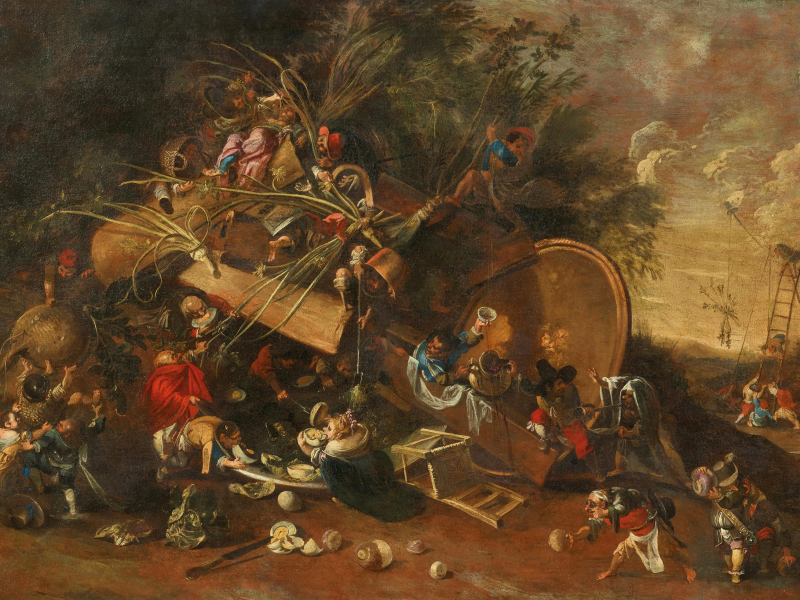 Phantasmagoria: Fanciful and Strange pictorial jokes
The fanciful artists such as Faustino Bocchi (Lot 101) and The Master of the Fertility of the Egg (Lots 272 and 273) created pictorial jokes, intended to amuse the 17th and 18th century nobles of Northern Italy. They were highly prized as comedic ornament, especially in the palaces and country villas of Brescia and the Veneto, fetching high prices when they were painted. They are an important visual documentation of the fashion and taste of the era.
Faustino Bocchi and other artists responded to this taste by creating works filled with curious zoomorphic creatures, frenetically busy pygmy folk and richly dressed fantastical figures all engaged in a tireless confusion of phantasmagorical activity. The action-packed dream-like scenes, set in recognizable arcadian landscapes, are populated by surreal characters, tumbling and rushing about their business, often aping human activity but disturbingly distorted in scale and context.
The bizarre extravagance of these paintings includes motifs which are almost be taken from everyday life, but which veer off disturbingly or playfully into the unexpected. We are presented with subjects such as party games between cockerels, owls and pigs in human clothing, images of the heaving and hoisting of heavy giant vegetables which dwarf the industrious misshapen figures straining on long frond-like ropes, and vignettes such as the earnest climbing of ladders which stretch up to the sky but go – nowhere.