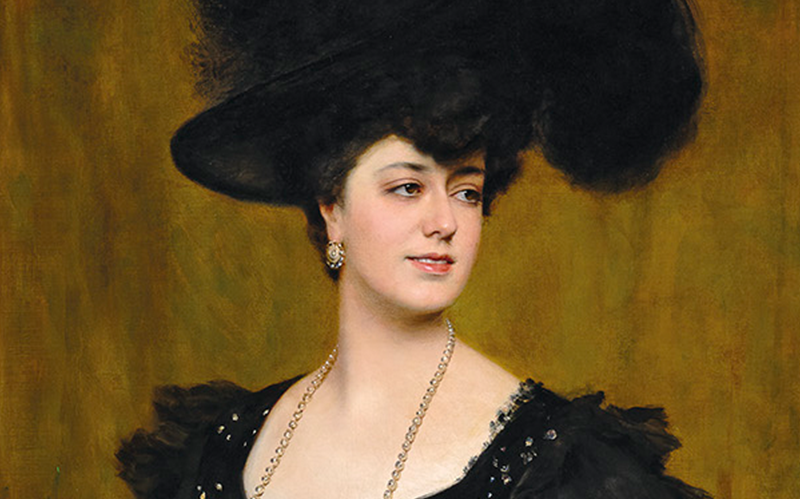 GRANDE DAME
This elegant portrayal of an industrialist's daughter,  Maria Lebreton,
is an outstanding example of the masterly
portraiture of Eugen von Blaas and reflects the prestige of the middle class in the Veneto at the end of the 19th century.
T
he Antonini family
The Antonini family had been at the helm of the great industrial concern, Canapificio Veneto, since 1889, the company enjoying great success all over the world. Maria, portrayed here, was the favourite daughter of the great industrialist, Andrea Antonini. He built the sumptuous Villa Antonini in Crocetta, completed in 1900, in her honour. Frescoes in the villa were painted by Giuseppe Vizzotto Alberti at the behest of Antonini, who proved to be not only a great industrialist, but also a patron and a connoisseur of fine art.
Maria Antonini played an active role in the family, organising parties and running the house as well as playing a key part in the family business. In 1908, she married a lawyer, Alberto Lebreton of Treviso, who assumed the reins of Canapificio following his father-in-law's long illness. 1909 marked the beginning of the decline of the Antonini family, following Andrea's illness and the handover of the management of the company to Lebreton.
Venice Biennale 1909
This portrait of Maria, by Eugen von Blaas, was commissioned by her father, presumably as a wedding gift. The painting was exhibited at the Venice Biennale in 1909, an example of the magnificent portraiture being created for the upper bourgeoisie. For von Blaas, the commission to paint the daughter of the greatest industrialist of the Veneto was extremely prestigious but the portrait also reflects the elevated status of the Lebreton Antonini, and attests to the 'anoblissement' of the family.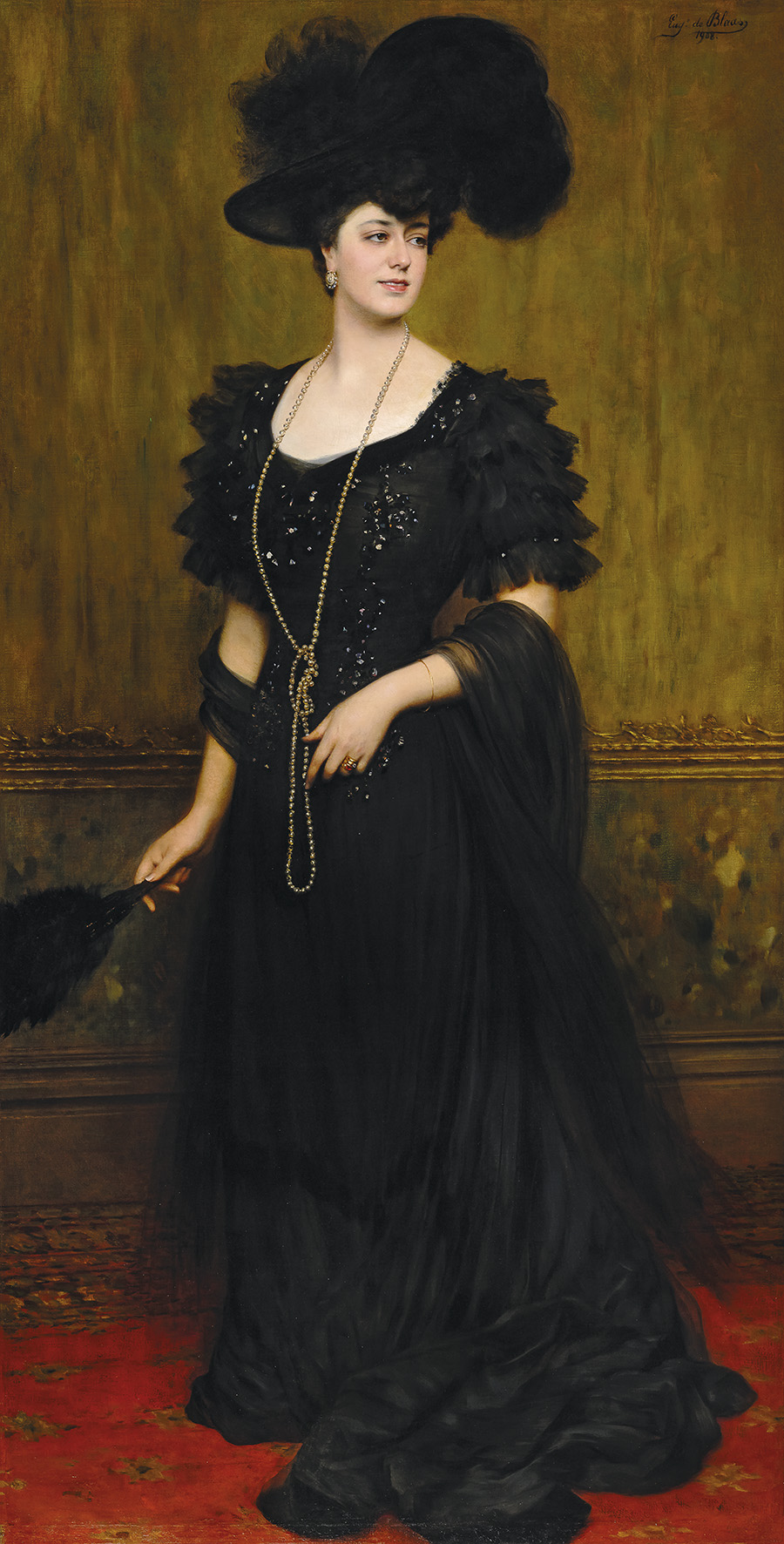 The portrait
This spectacular portrait, a superb example of a full-length piece by von Blaas, is dated 1908. The sitter is shown in a black satin evening gown, wearing a fashionable feathered hat and a long string of pearls which are off-set by her diamond and pearl earrings.  The tulle stole is casually draped over the sitter's arms and the feathered fans suggest that she has paused only momentarily to allow the artist and her audience to appreciate her beauty. The glamorous sitter glances elegantly to one side, looking away from the viewer. The artist focuses on the sitter's radiant presence, placing her against a contrasting neutral background.
AUCTION
19th Century Paintings, 9 November 2020
Palais Dorotheum, Dorotheergasse 17, 1010 Wien
19c.paintings@dorotheum.at
Tel. +43-1-515 60-355, 377
View now the auction catalogue and read our new myARTMAGAZINE