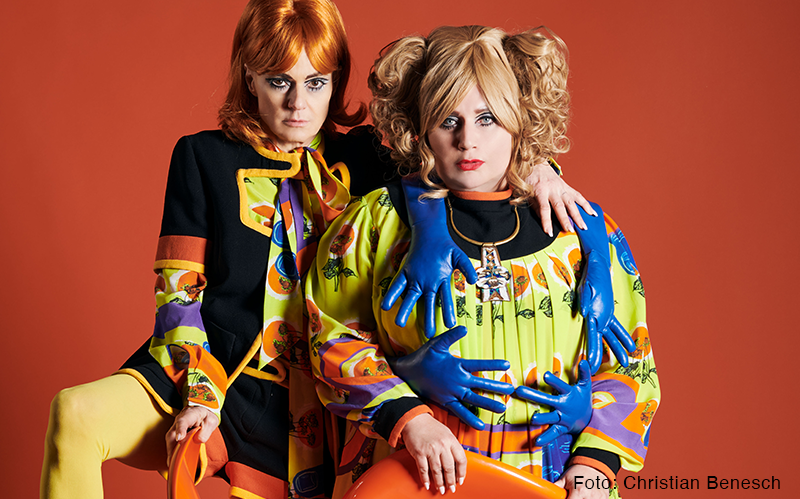 SEDUCE AND PERSUADE
Jakob Lena Knebl & Ashley Hans Scheirl are the closest Vienna gets to having its own Gilbert & George. They are regarded as Austria's hottest cultural export of the moment and are currently occupying the Dorotheum-sponsored Austria Pavilion at the Venice Biennale. The flamboyant artistic duo have managed to create their own unique cosmos of "set pop" pieces, in which complex themes such as selfie culture, sex change, identity and gender issues are examined. A particularly vivid illustration of the jaded and witty world of Knebl & Scheirl was shown at Palais Dorotheum during Vienna Art Week 2019.  A portrait.
Once again Vienna is able to offer a power­ful all-encompassing art concept. And what a concept it is! Art and life, high and low, retro and visionary all come together in the total artwork that is Jakob Lena Knebl & Ashley Hans Scheirl. The "queer" term has become somewhat inflationary in recent years and is insufficient to describe the wonderfully clever, vigorous, humorous and perpetually surprising way this artist duo swims straight against the current of the cultural mainstream. Or rather paint against the current, as was the case at the 2019 Vienna Art Week where a nude male model served as their live canvas in the three-part video installation entitled "Recolouring": the painted man as male muse. It was an unequivocal wink at two contemporary art movements that have their roots in Vienna's art scene, Body Art and Actionism. 
On the opening night of Vienna Art Week, Knebl and Scheirl transformed the largest wall space in Palais Dorotheum's main foyer into a massive flickering triptych in which the artists themselves performed in the roles of funky handymen, recolouring different floor spaces with paint rollers. The guests could follow their progress from a bird's-eye perspective. An extra dimension was lent to the recolouring and the "Making Truth" theme of the Art Week by the eruption of a political scandal which was breaking at the time, a scandal that was to bring about the resignation of the Austrian government, prompting new elections – in other words: a recolouring of Austria's party political map. 
The inclusion of an outright swarm of allusions and references has become a trademark of the illustrious duo's performances, tableaus and art pieces. Even their names, which both combine male and female first names, are allusions to their ongoing artistic and personal exploration of identity. Dystopian concept art combines seamlessly with a colourful cosmos of set pieces presenting us with witty explorations of themes covering topics such as excessive selfie culture, fetishism, sex change, identity and gender roles and much more. Employing elements from pop-culture and design, Jakob Lena Knebl has opted for a consciously democratic approach to art, an approach that intentionally sprinkles the elitist context with clear traces of the mundane: "I don't want to provoke defensiveness – my tools of choice are seduction and persuasion" she says.
"Trans" as artistic Method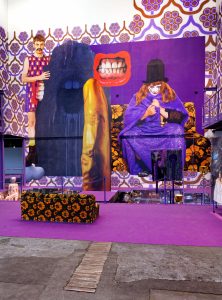 The duo, who both teach at Vienna's Academy of Fine Arts, view their project as a continuation of the tradition embodied by the British Arts and Crafts Movement, the Bauhaus Movement and Wiener Werkstätte. "Trans" as a concept also plays a significant role however, and not simply in the colloquial "transgender" embodied by Ashley herself. "Trans is a method," Lena says, "trans-medium, trans-genre; we employ a wider notion of the term." It should aim to attract and speak to and include as many people as possible. Joseph Beuys serves as an inspiration in this regard. His presence! He engaged in long telephone conversations with complete strangers who had merely looked him up in the phonebook. Doesn't Lena and Ashley's huge artistic output and the stubborn insistence to engage personally with the audience take a heavy toll? Well, even if that were to be the case: "Beuys said you must embrace the wear and tear". 
Comedians are another source of inspiration, Laurel and Hardy for instance, but never in a million years the Austrian cabaret artists. The British comedy group, Monty Python, inhabits a category of influence all of its own, having long served as an artistic starting point for most of Lena's work. Gilbert & George have also exerted a notable influence however – "the Monty Python of fine art," as Lena dubs them. To this day Lena and Ashley remain utterly captivated by the legendary artists' mannerisms and artistic output. A prime example of their witty genius was when they managed to sneak themselves into a do-it-yourself book of the 1970s disguised as candles in full body suits."
Feminitity as a handicap

 
Lena and Ashley have officially been partners since 2016. They both have refreshingly unorthodox CVs – and what would one expect? As Hans Scheirl, Ashley was part of the 1990s London underground scene and founded an artist community in the style of Warhol's Factory. Before that in the 1980s, she produced and directed a trashy punk-like movie titled "Rote Ohren Fetzen Durch Asche", in which she herself played several queer feminist roles – an example of art as a laboratory for experiments with gender and identity! It was her often extensive paintings (signed merely "Hans") however, that established her firmly in the art world, a number of them being selected for participation at the renowned documenta exhibition in Kassel in 2017. Ashley Hans Scheirl is a devout admirer of, and shares a special relationship with, Maria Lassnig. No wonder. Lassnig mentored Scheirl for a while when she herself was still searching for her own expression as an artist, and Scheirl spent a period serving as her assistant.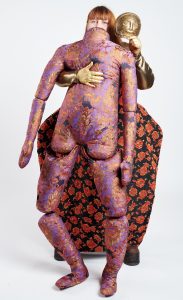 Ashley Hans Scheirl has quite literally lived out both the male and the female sides of her personality. In a 2018-interview with Austrian daily newspaper "Die Presse", she captured her experimentation with identity in the following way: "I have realised in the past few years that women feel a pressure to dress up and wear makeup and men, conversely, are constrained from doing so. The question is never far away: don't you want to make yourself beautiful for the men? Wearing nail polish in the subway as a man on the other hand, will endanger your safety. It has to do with our fear of feminitity, of vulnerability. Wearing stilettos constitutes a real handicap. Femininity is a handicap, whether we want to acknowledge it or not." 
Lena is a latecomer to the artworld. She worked for years in geriatric nursing, before taking up her art training under Heimo Zobernig and later studying fashion under Raf Simons. She recently completed training to become a systemic coach and yet last year "artnet news" described her as one of the ten most influential curators worldwide in the past decade. Her clever, quirky and extremely subjective "re-presentations" of museum collections, such as at the Vienna Museum of Modern Art (mumok) three years ago, or currently at the Lentos Museum in Linz, incorporate many different layers of perception. 
Everything flows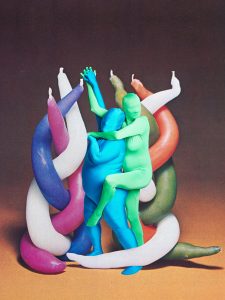 How does the daily cooperation work in practice between a pair who are partners both in art and life? In terms of exhibitions and performances, the specific location is key – that's where the dialogue starts. From there themes and details are added along the way. Collaboration and integration in their work is very important to them. At the 2019 Lyon Bienniale, for example, elements of Ashley's silk paintings were found in Lena's graphic works, and Lena subsequently worked with the Viennese fashion collective, "house of the very islands …" to turn the works into a fashion collection. The Viennese label which Lena once belonged to, in turn integrated some of Lena's carpet designs into their works.
With their tableaus, videos and performances, Ashley and Lena seem to have struck a chord. Their universal language – a mixture of opulence, pop, comedy and maleficence – is in high demand internationally. After scheduled exhibitions at the Lyon Biennale and in Viennese galleries this year, they are heading to the Venice Biennale in 2021, where they have been entrusted with the Austrian pavilion exhibition. Ashley is also due to exhibit at the Riga Biennale, while Lena has a show at the Museum of Art and History in Geneva lined up.
2019 the city of Vienna itself served as Ashley and Lena's showroom during the Life Ball. The City Hall's main tower was covered in 70-meter-high installation created by the duo. Alongside their growing international profile, the work of Jakob Lena Knebl & Ashley Hans Scheirl remains a formidable confirmation that Vienna's art scene is very much alive and vibrant. 
Read now our myARTMAGAZINE