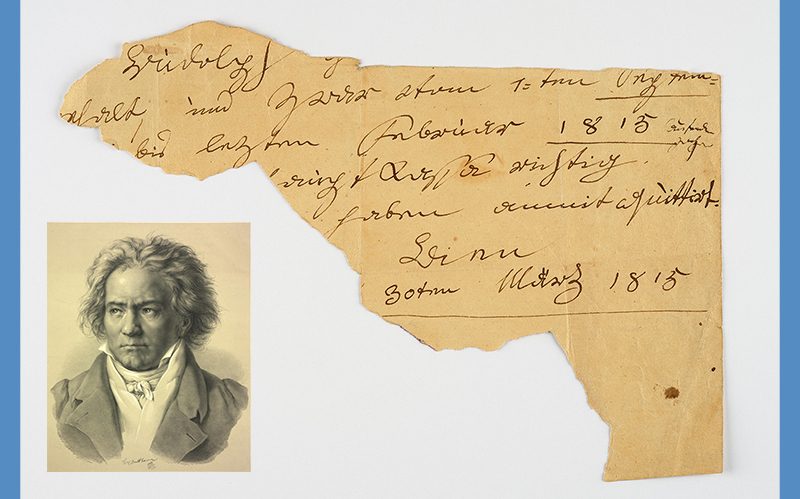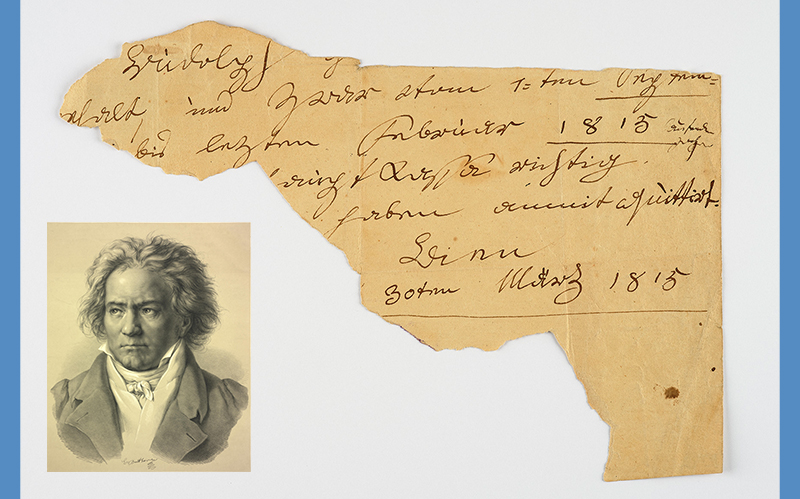 In the 250th anniversary year of Ludwig van Beethoven's death, a fragment of writing in the composer's own hand, dated 1815 will be offered for sale at Dorotheum in the Autographs, Manuscripts and Certificates sale in November 2020. It bears witness to Archduke Rudolf's lifelong patronage of the genius of the century.
a lifelong patronage
This fragment of writing, in the great computer's own hand, is difficult to decipher at first glance, however, research reveals it to be unusual evidence of the long-standing personal and financial relationship between the celebrated genius of the First Viennese School and his most important patron. The key to understanding the autograph, which is only partially preserved, is the name legible at top left, "Rudolph". It refers to Rudolf of Austria (1788–1831), the youngest brother of Emperor Francis I and after 1820, Archbishop of Olomouc, who was a pupil, friend and patron of Ludwig van Beethoven.
Archduke Rudolf was himself a gifted musician and was noted as an outstanding pianist. In order to persuade Beethoven to reject an offer from Jérôme Bonaparte to go to Germany, the Archduke, along with Prince Kinsky and Prince Lobkowitz, assured the highly esteemed composer of an annual stipend of 4,000 guilders. The purpose of this agreement was to enable Beethoven to remain in Vienna, free of material concerns, devoting himself to his adopted home and his music. The Archduke's share of this stipend amounted to 1,500 guilders, half of the sum (750 guilders) to be withdrawn twice yearly from his primary deposit, appropriately receipted.
While the other aristocratic sponsors could, on occasion, not afford to honour their payments according to the contract, the Archduke placed his contributions at the composer's disposal regularly every six months until Beethoven's death. Unfortunately, only very few receipts in Beethoven's hand have been preserved.
a rare record of the contract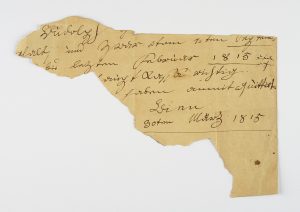 This current fragment is clearly incomplete, however it is a rare record of the contract. When seen in the context of an existing receipt from 1814 from the collection of the Beethoven-Haus in Bonn (ref: HCB Br 205), the content and even the wording can, with some degree of certainty, be reconstructed as follows: (the actual text visible on the fragment is shown here in bold):
"Receipt for 750 guilders Viennese currency, in words: seven hundred and fifty guilders Viennese currency, which the undersigned has appropriately received, and receipted, from the main cash office of His Imperial Highness, the Most Serene Archduke Rudolph, as a most graciously granted stipend, namely from 1st September until the last February of the current year 1815. Vienna on 30th March 1815. Ludwig van Beethoven."
Auction
Autographs, manuscripts, certificates
30 November 2020