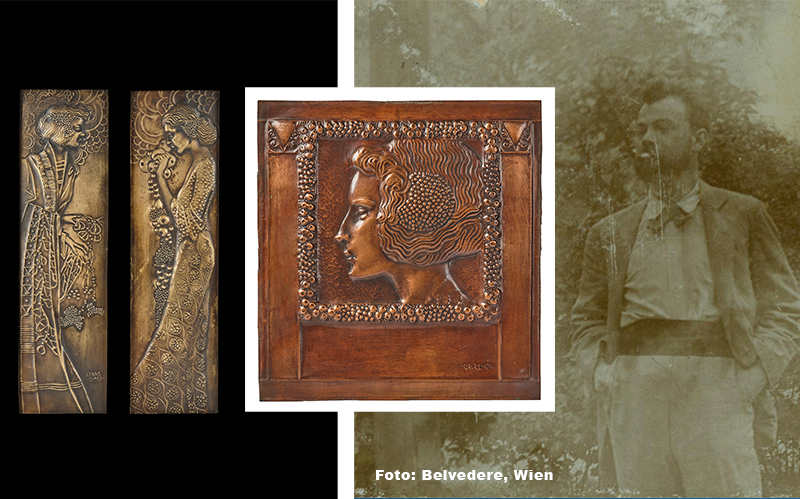 Gustav Klimt's brother, Georg, created the entrance doors to the famous Vienna Secession building. A work by the acclaimed craftsman, Relief of a Female Figure from around 1900, which is to be sold at Dorotheum on 12th December, proves him to have been one of Vienna's finest metal sculptors.
Upon completion of the Secession building, its architect Joseph Maria Olbrich wrote: "What a joy to give birth to this house! It arose from a chaos of ideas, a mysterious
tangle of sensations […] It grew up in six months, hand in hand with the construction." One of its "constructors" was Georg Klimt, younger brother of the artist and co-founder of the Vienna Secession, Gustav Klimt.
Born in 1867, Georg Klimt was the fifth of seven children. Like his older brothers Gustav (b. 1862) and Ernst (b. 1864), he was educated to follow in the artisan footsteps of his father, who was an engraver. They attended the Kunstgewerbeschule (School of Arts and Crafts), the training branch of the Museum of Art and Industry in Vienna. Georg started his own business as a medallist and metal sculptor as early as 1896 and went on to become a teacher at the Kunstgewerbeschule for women.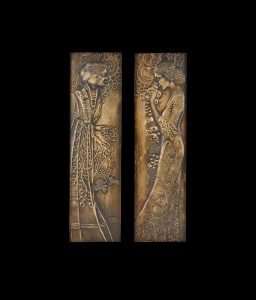 Zwei Reliefs mit Frauendarstellungen
Wien, um 1900, Messing, 37 x 10,3 cm
price realised €46,080
It is impossible to imagine fin-de-siècle Vienna without its formative luminaries such as Josef Hoffmann, Koloman Moser, and Alfred Roller. The artists of Wiener Werkstätte created a new language of form, replacing organic shapes and lines with linear and geometric forms which soon became characteristic of their artisan craftwork and architecture. Gustav Klimt became part of this movement when he designed the Stoclet Palace in Brussels along with Hoffmann and other artists of the Wiener Werkstätte. Gustav supported his brother not only with commissions of his own, but also commissions from the Wiener Werkstätte and the public sector as well. Amongst these were the two main entrance doors to the Vienna Secession building, designed by Joseph Maria Olbrich, which would be lost in the turmoil of the war and were subsequently replaced with replicas. There is no denying a certain 'family likeness' between Georg and his brother Gustav's work when you look at the two reliefs with female figures which were sold at Dorotheum last year for 46,000 Euros. They were executed to the highest level of artistic prowess by the craftsman whom Alfred Roller regarded as "perhaps the finest metal sculptor in all of Vienna". While Gustav Klimt manifested the Secession movement in modern art in a visual form, Georg Klimt realised it in an applied, existent form.