Auction Update: 1963 Shelby Cobra sold for € 1,012,000 at Classic Expo Salzburg.
On 23 January 1954 Carroll Shelby, a Texan amateur race driver, failed chicken farmer and postman's son, surprisingly clinches pole position in the season's first championship test, Buenos Aires' 1,000 kilometre race. Driving an Allard J2X, Shelby leaves an illustrious field of manufacturers' teams and well-heeled privateers trailing behind in the time trial.
The field's Ferraris, Maseratis, Aston Martins, Jaguars and Porsches look like pure science fiction against Shelby's Allard, which sports a stock 5.4 litre Cadillac V8 engine and a three-speed transmission. The drivers' list reads like a who's who of the rich and famous in international racing, names every bit as impressive as the gasoline guzzlers they're driving. On this day, however, they eat the dust of an unknown amateur and his rigid car.
Shelby loses his sparkle in the following day's race and eventually has to settle with a tenth place. Italian whippersnapper Umberto Maglioli and veteran driver Guiseppe Farina finish first, ahead of Spanish aristocrat playboy Alfonso de Portago. The Allard, after all, is too sluggish and bulky to keep up with the old world's lean and wiggly octane rockets. Shelby's performance is a sensation, nevertheless. Impressed by his driving skills, Aston Martin team manager John Wyer grants Shelby a seat in his high-powered DB3S race car for the next race in Sebring.
Shelby also drives for Ferrari and Maserati in the following years, but he returns home to Aston Martin and John Wyer in the late 1950s in time to capture the greatest and last triumph of his brief career – the 1959 24 Hours of Le Mans win with co-driver Roy Salvadori. In September of that year, Shelby takes his Aston Martin for the final competitive spin at the Italian Grand Prix at Monza.  A congenital heart defect has finally caught up with him. Neither his unrelenting passion nor the nitroglycerin pills under his tongue during races can change the inevitable: at the urgent request of his doctors, Shelby agrees to retire.
He quits racing, but not cars. Instead, he decides to build one for himself, an American race car that will make the cocky Europeans look old and dilapidated. He needs both a chassis and an engine, though. General Motors flatly rejected a project pitch by Shelby two years earlier; it would be senseless to support a direct competitor to its own Corvette, GM found. Luckily, Lido A. Iacocca, a young manager at Ford, recognises the potential in Shelby's project and offers him a partnership and the use of a new 260 cubic inch V8 engine.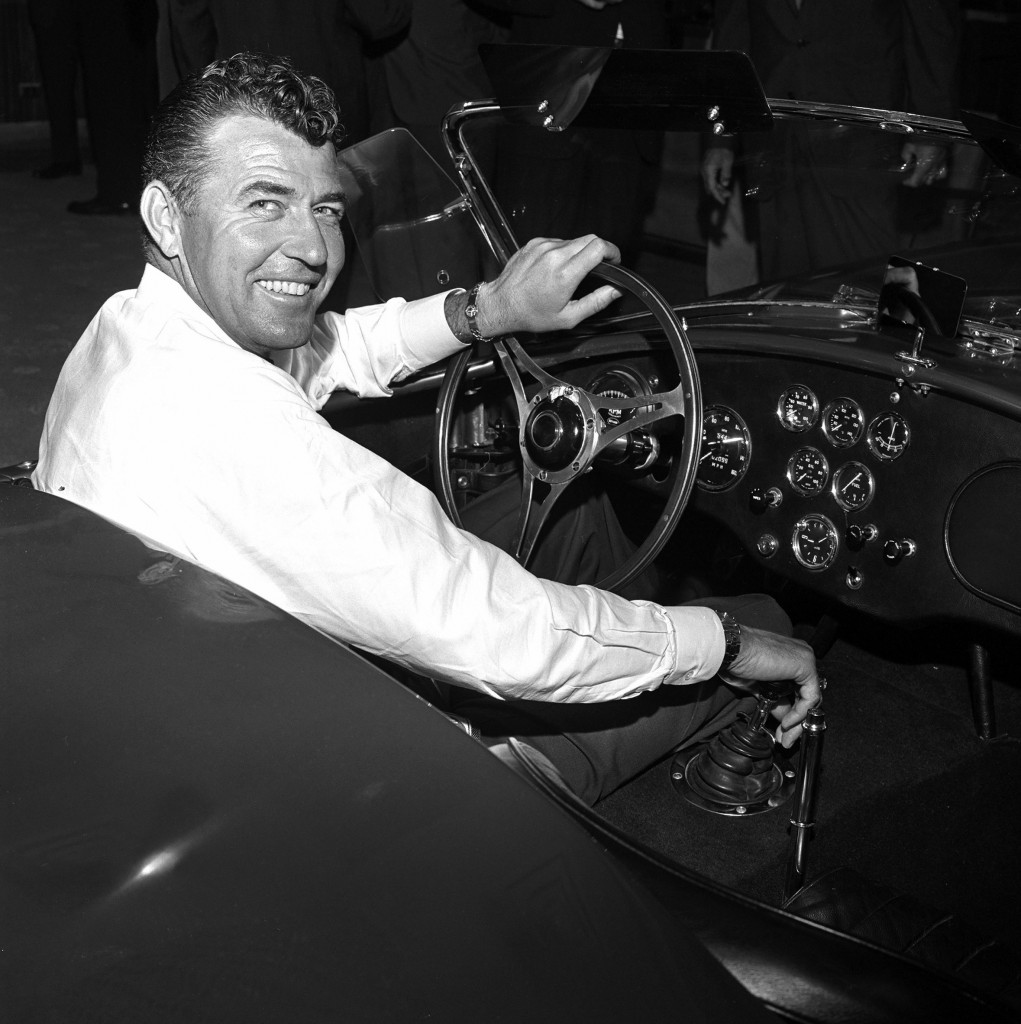 Around the same time, a window of opportunity is cranked open in the UK, as AC Cars loses the engine supplier for its top model, the Ace. The Ace is equipped with a Bristol engine that descends directly from BMW's pre-World War II classic 328 engine. It has secured AC some measure of success at international races, but when the Bristol Aeroplane Company shuts down its car division, AC leaps at the opportunity to sign a deal with Shelby and Ford. In February 1962 the first prototype, unpainted from lack of time, is flown across the Atlantic to be fitted with an engine twice as powerful as the Ace's 135 hp Bristol. Eight hours after touchdown in Los Angeles, a fully assembled car rolls out of Shelby's Santa Fe workshop for its first test drive.
It is fast. Very fast indeed. Faster even than Shelby had dared to imagine.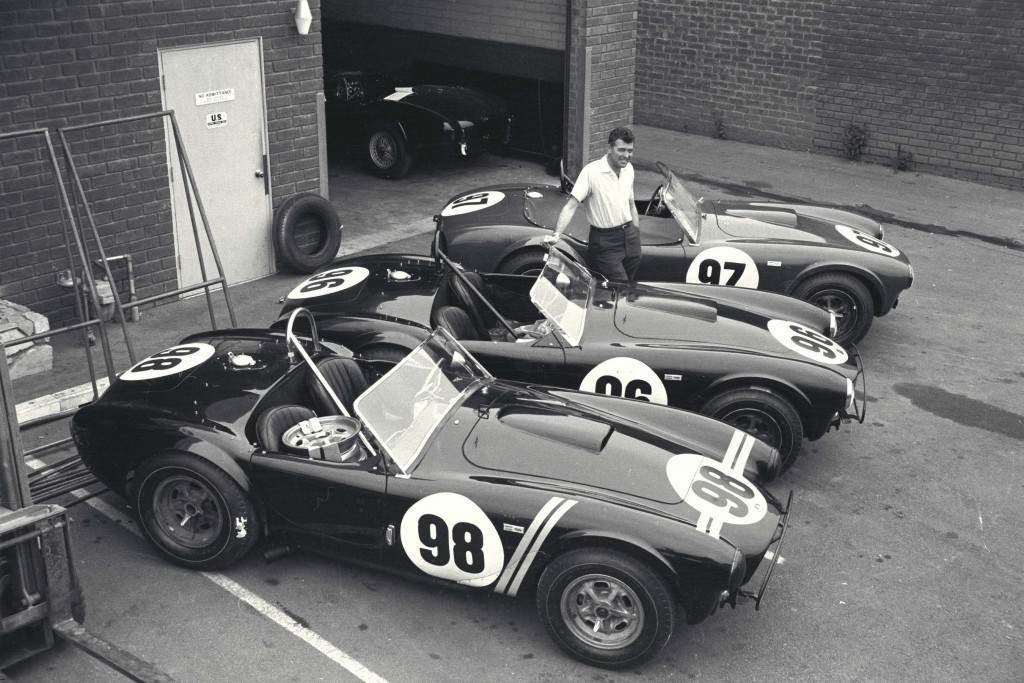 Carroll Shelby's road menace still needs a name, though. He always carries note pads around to scribble down elusive ideas before they elope, and one morning he finds the word "Cobra" on one of them. He can't remember jotting it down, but he likes the sound of it. At least that's how legend has it.
Upon presentation, the industry-relevant press rains unreserved praise on the new boy in roadster town. Shelby gives the prototype a fresh paint job ahead of every test to convey the impression that the Cobra has already gone into serial production (with just 998 Cobras manufactured in total, it would be a stretch to claim it was ever mass-produced), and AC battles to maximise the setup and iron out initial lumps and bumps. The earliest models – the 260 engine is soon replaced by the 289 – are classified today as "Mark I," models with an updated steering system as "Mark II." Towards the end of 1964, a comprehensive testosterone-inducing overhaul boosts the output to 500 hp and the engine capacity to 7 litres; coil springs and wider fenders lend the new Cobra a hardly recognisable masculine look. The beefed-up monster is named "Cobra 427."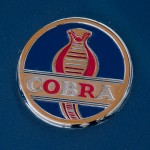 Shelby's Cobras make big waves in the GT class at first, but the European automotive wizards don't rest long on their triumphs of yesteryear. Powerful new cars and designs flow in a steady stream from the European car factories, and by the time Shelby's contract with AC expires in 1966, the Cobra has effectively reached the end of the road. Production is discontinued. Shelby stays with Ford to head the company's new GT40 project – the Ford Empire's best bid at a quick return to the top of racing. And what an attempt it is. The GT40 brings home the Le Mans crown for four consecutive years.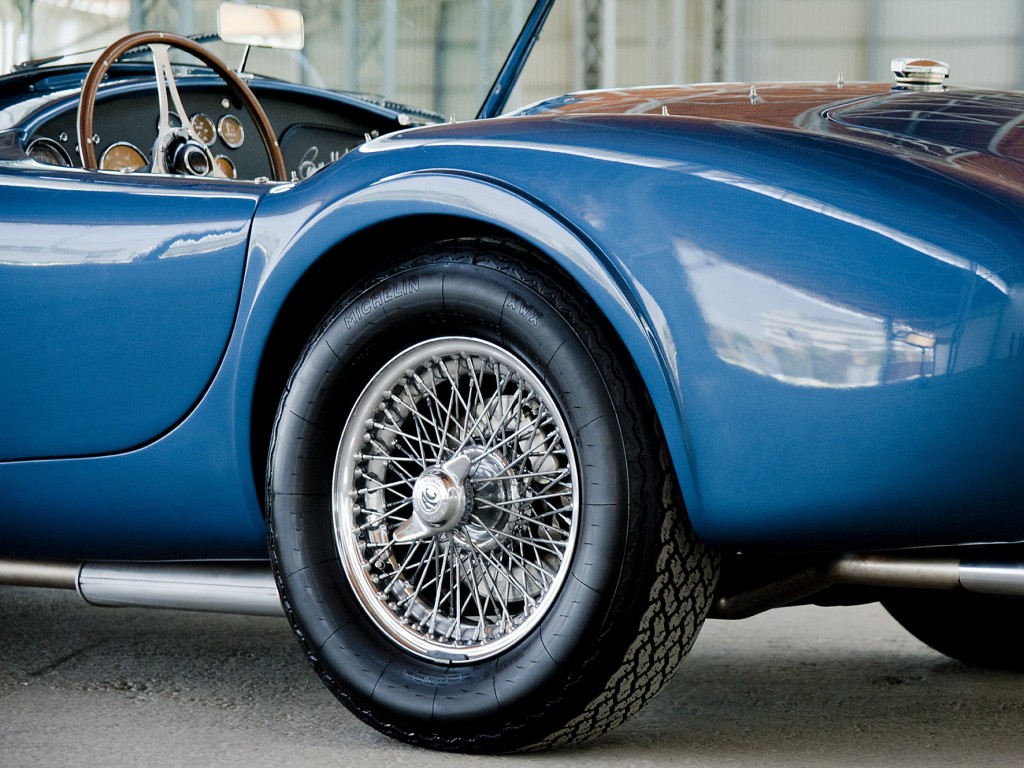 Despite of the Cobra's swift demise, the car and its unlikely creator managed to secure a prominent spot in automotive history. Rick Kopec sums it up well in the "World Registry of Cobras and GT40s:" "The Cobra Team was a bunch of underdog California hot-rodders who went to Europe and didn't know they weren't supposed to be able to do the things they were doing. They just did them."
The present Cobra, CSX2104, was the very first to leave the factory with a different colour than the early red, white and black standard hues. "Guardsman Blue" has since become the trademark of all Shelby race cars, but it started with our Cobra. The colour isn't the car's only remarkable feature. It spent its early and maturing years in the care of one owner only, a Mrs Rozella Ruch. She moved to Hawaii with her beloved Cobra in the early 1970s; it had just 7,200 miles on the clock at the time, freight documents show. Few have been added since. The mileage grew by a mere 2,000 miles to 9,159 miles in the 15 years before Rozella Ruch's death and her husband Morris Ruch's subsequent sale of the Cobra to a California-based Cobra aficionado. Ten years ago, CSX2104 relocated to Europe with a new owner, a German oldtimer liebhaber, who, like his predecessors, has refrained from adding more than the bare minimum of extra miles to the odometer. With a mileage of just 9,673, some 15,000 kilometres (after 52 years!), and an impeccably documented ownership history that spared it the scars of a raving race track career, our Cobra presents itself as one of the most "original" specimens left. Cobra legacy at its very finest!
Read press release | View Online Catalogue
(myART MAGAZINE No. 06/2015)
1963 Shelby Cobra 289 Mk. I
CSX2104, first Cobra in "Guardsman Blue."
Original. 9,673 miles.
Estimated value: €950,000 – 1,250,000.
Classic Cars and Automobilia auction, 17th October 2015.
Palais Dorotheum
Information:
Mag. Wolfgang Humer
+43-1-515 60-428
oldtimer@dorotheum.at