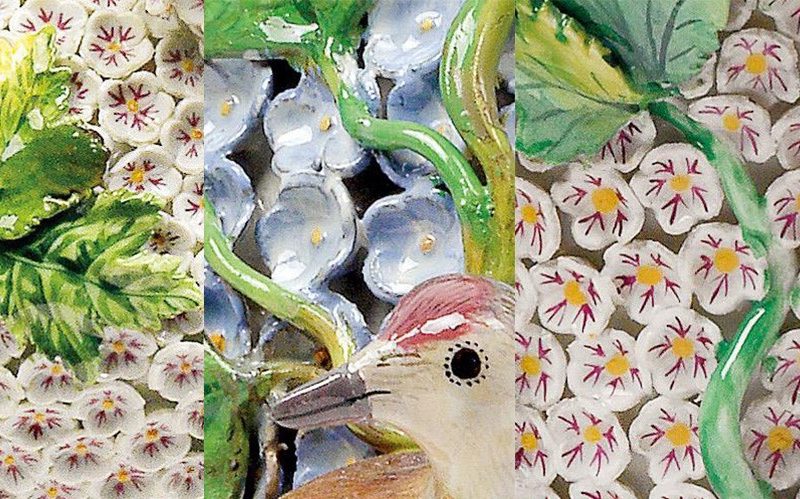 The delicate, fragile, and beautifully lifelike, vases known as "guelder rose" are eerily decorative works of art and true masterpieces of craftsmanship. Three lots from the upcoming antiques auction at 2 pm on Wednesday, 19 October 2016 include such stunning vases.
Vases like these evolved from the models of Johann Joachim Kändler. He created prototypes for a whole series of vases for King Louis XV in 1741 and 1742 that were modeled after Asian porcelain.
In Meissen, complicated shapes, such as those known as 'birdcage vases', were produced according to the Japanese model. The chalice-like bell shape, made of fine gilded metal bars, formed a kind of cage in the midsection of the vase.
The vases appear somewhat translucent and airy, especially when viewed by candlelight. It seems as if the sculptural layers added further flowers to them; the colored birds have an incredibly lifelike appearance. Snowball vases were thus extremely expensive, which is why they could only be found in the homes of important princes, such as in the courts of czars, but also in elite estates in Germany.
Frederick the Great developed a particular weakness for vases such as these. He ordered numerous articles for the furnishing of the New Palace in Potsdam, made specially for the blue room of his residential suite there, in 1762. The vases were placed on consoles between the wall panels as well as on the hearths.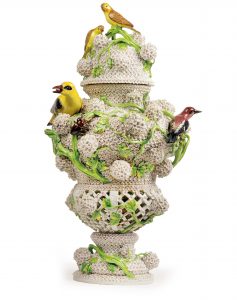 Lot No. 1017
A pair of ornamental lidded vases decorated with birdcage and guelder roses, 3 parts, lid, baluster, and foot, height: 80 cm
Meissen, second half of 19th century, model made in circa 1760 by Johann Joachim Kändler;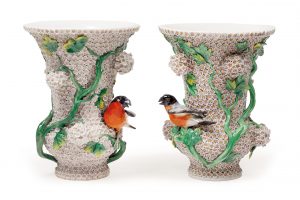 Lot No. 1018
A pair of guelder rose vases,
Height: 26 cm
Meissen
First half of 19th century,
model made in 1742 by Johann Joachim Kändler, minor restorations in 1760,
A bottle vase with lid and light blue guelder rose décor
Height 49 cm, Meissen, mid-19th century,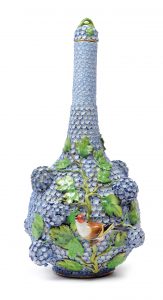 Looking for fine porcelain works of art? Browse our online catalogue and discover a wealth of rare finds!
Works of art (furniture, sculpture, glass, porcelain) auction
Wednesday, 19 October 2016, 2 pm
Palais Dorotheum Vienna