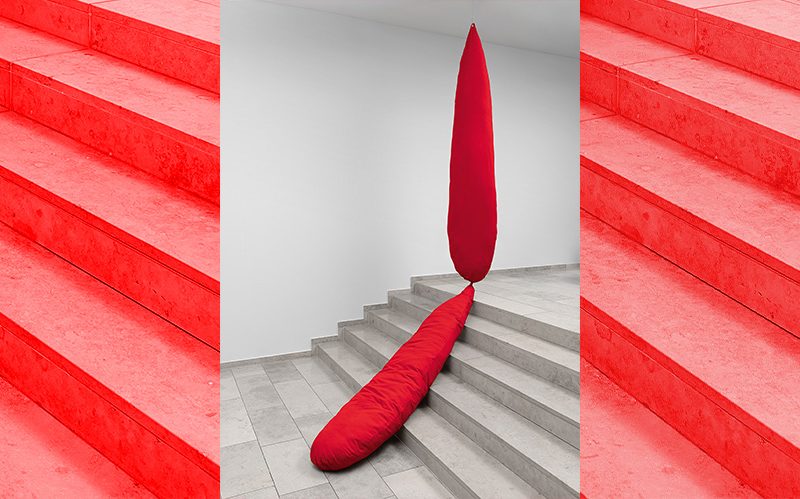 Sterling Ruby's art is as eclectic as it is disturbing. It is a contemporary kind of Arte Povera Americana based on a wide range of media. "2 drops" from the Soft Sculptures series is no exception.
Sterling Ruby is no doubt one of the most versatile, unpredictable and influential contemporary artists. Born on an American air base in Bitburg, Germany, he is now based in Los Angeles, where his divergent work processes in a wide range of genres result, amongst other things, in biomorphic ceramics, large, spray-painted canvases, different kinds of collages, videos, tapestries, soft sculptures, and fashion collections. Ruby's practice references biographical and social subjects such as maximum-security prisons, bodybuilding, warfare, sects, gangs and marginalised groups, vacillating "between the fluid and the static, the minimalist and the expressionist, the pristine and tarnished", as stated in the catalogue accompanying his 2016 solo exhibition at Vienna's Winterpalais. In other words: a contemporary kind of Arte Povera Americana.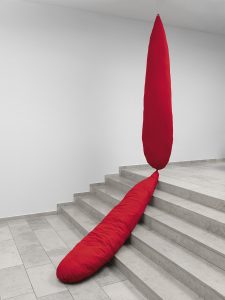 2 Drops
The installation "2 drops", which is up for sale at the December auction of contemporary art, was presented at the 2011 Berlin exhibition "I AM NOT FREE BECAUSE I CAN BE EXPLODED ANYTIME". The exhibition title took its cue from a 1983 collaborative painting from Jenny Holzer and the graffiti artist Lady Pink. Ruby had been fascinated by that work for years and had realised at some point that its self-referential slogan could be contextualised with the current political discourse on terrorism, more precisely with America's obsession with "freedom" and with the question whether it is hated for it. Ruby interprets Holzer's sentence as an expression of the real feeling of being caught in a war zone. However, like all of Holzer's cryptic texts, it is ambiguous and can also be seen as an expression of a paranoid delusion.
Sterling Ruby's works continually fathom and push the boundaries of artistic media. Examples include his own fashion collection launched in 2019 together with Raf Simons, former Chief Creative Designer of Dior and Calvin Klein, after years of collaboration.
Information: Petra Schäpers is a specialist for contemporary art and head of Dorotheum Düsseldorf.