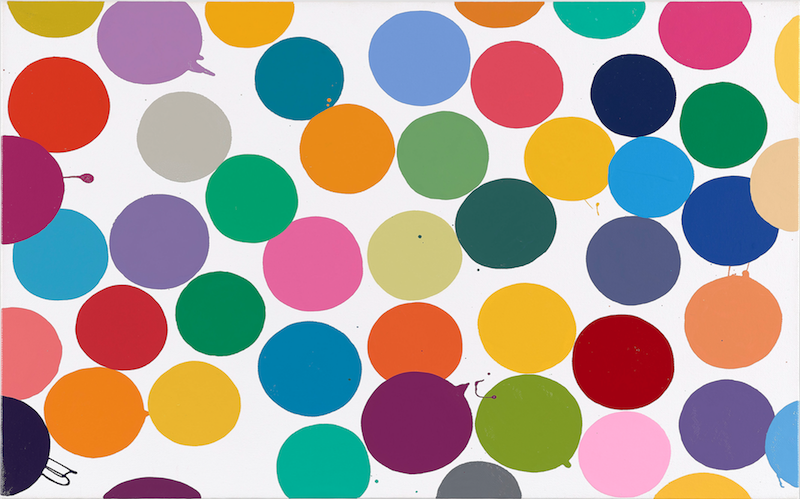 The perfect spot for spots!
Dorotheum, the oldest of the world's major auction houses, is thrilled to support the creation of a very special contemporary art exhibition. Art star Damien Hirst and displaying his artworks as if they were those of an Old Master. In the elegant ambiance of Houghton Hall, one of England's most historically important manor houses, Hirst will exhibit a series of sculptures and around 50
of his new Colour Space Paintings.
Damien Hirst knows how to stage his work, often starting turmoil in the art world. Houghton Hall, a magnificent 18th-century manor house, and its sprawling gardens will be the setting for Hirst's Colour Space paintings. They are a further development of his famous Spot Paintings, and will be on display for the first time. In addition to the Spin Paintings and the animals in formaldehyde, the Spot Paintings form the artist's third largest body of works. "I imagine the dots of the Colour Spaces like cells under a microscope," says Hirst, enthusiastic about the venue. "It felt right to show them in a historical context rather than in a conventional gallery space, and Houghton is perfect, it feels totally correct ".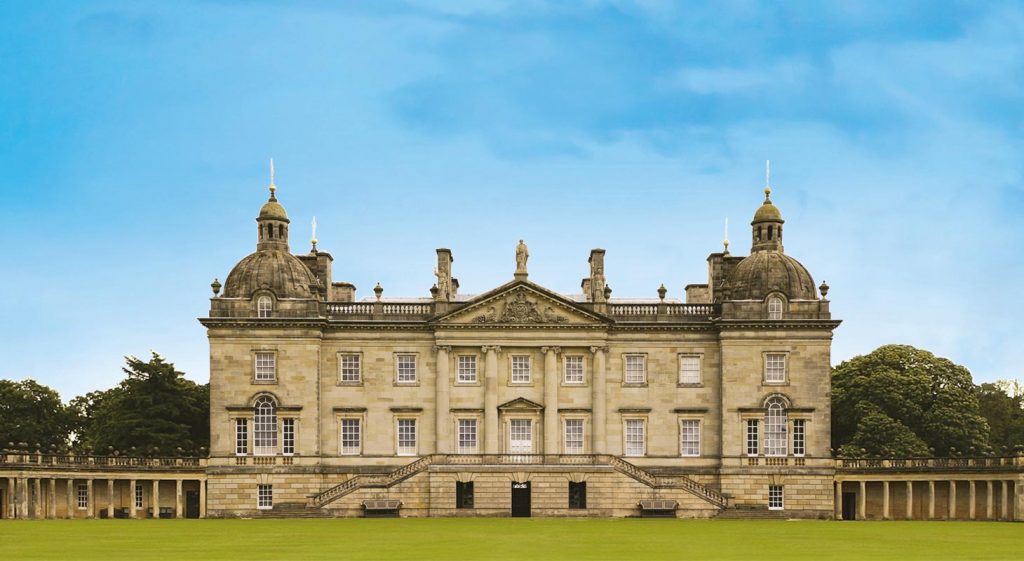 Houghton Hall, Norfolk, England 
Built around 1722 by the first Prime Minister of Britain, Sir Robert Walpole, Houghton Hall is one of the most significant examples of Palladian architecture in England. It was designed by architects Colen Campell and James Gibbs, while William Kent is responsible for the interior.
Lord Cholmondeley, whose family acquired the castle through marriage in 1797, has been dedicated to contemporary art for years.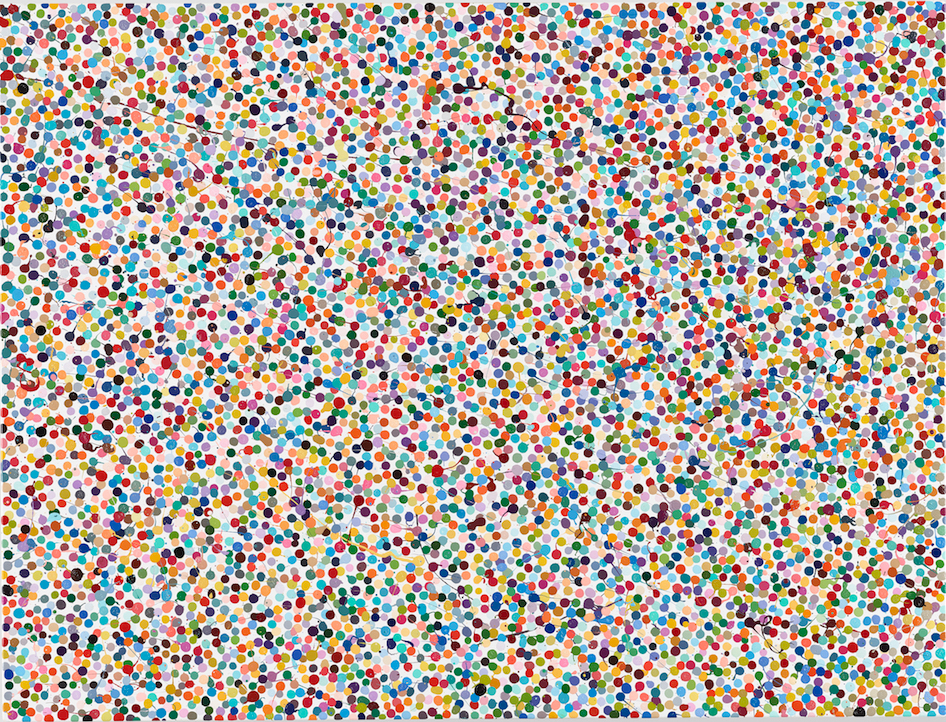 Damien Hirst, English Lilac (2016), Household gloss on canvas, 406 x 610 mm, Photographed by Prudence Cuming Associates Ltd. © Damien Hirst and Science Ltd. All rights reserved, DACS 2017
If the Spot Paintings created in the 1980s and 1990s are designed as an infinite series, then the Colour Spaces are limited to four million points. Assistants dotted a total of 250 light-coloured canvases with paint. Daily, around 1,500 points are created in his workshop. Unlike the Spot Paintings, it's not about the impression of mechanical production. "Colour Space goes back to the human element, so the drops reveal the fallibility of the human hand and irregularities – No two dots on the same painting are exactly the same colour, that's very important to me."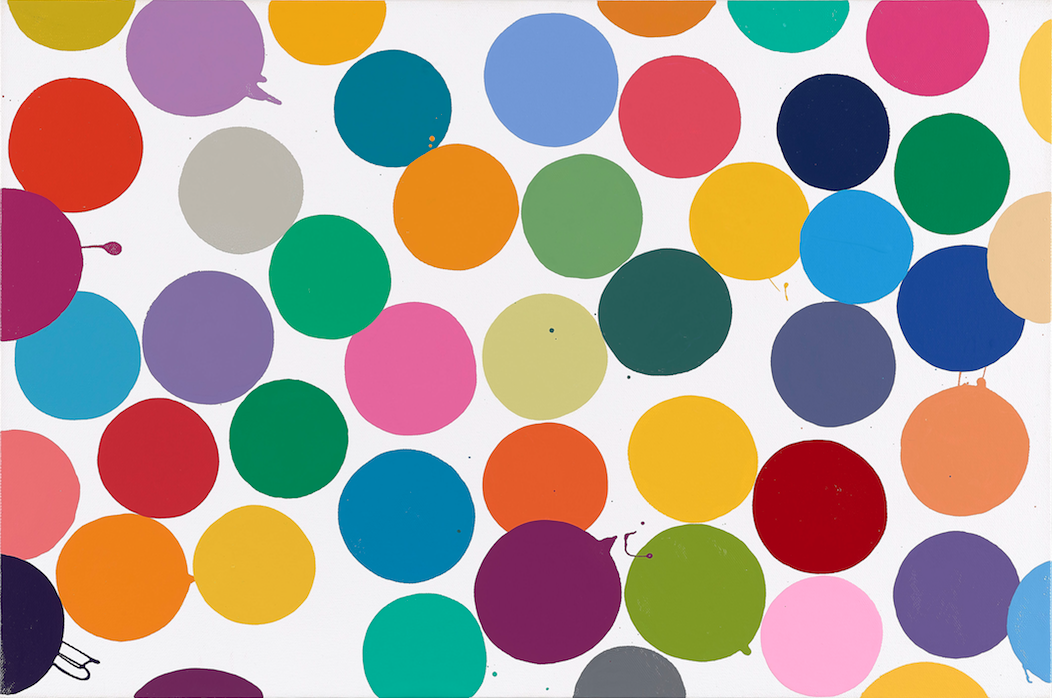 Damien Hirst, Flesh Tint (2016), Household gloss on canvas, 610 x 813 mm, Photographed by Prudence Cuming Associates Ltd. © Damien Hirst and Science Ltd. All rights reserved, DACS 2017
Curated by Mario Codognato, the exhibition also includes significant sculptures by Damien Hirst revolving around his favorite themes of death, life and love. Six large objects, including Virgin Mother (2005-2006) and Charity (2002-2003), will be placed in the park, five more in the state rooms.