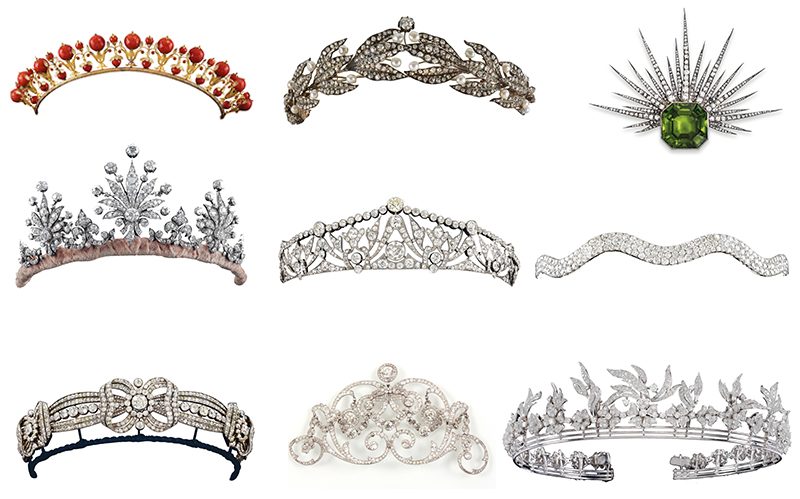 From laurel wreaths to pearl strands and diamond crowns: jewellery expert Astrid Fialka-Herics, head of Dorotheum's watch and jewellery department, provides insight into the changing history of one of the most prominent accessories of all time, the diadem.
This wonderful heart-shaped brilliant diadem will be in the upcoming Jewellery auction at the Palais Dorotheum on the 5th of June. Read now more about the history of the diadem.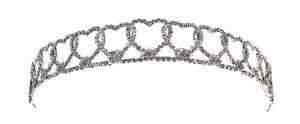 Since early antiquity, wreaths of leaves fashioned from gold or silver have adorned the heads of victorious warriors, winning contest participants and aristocratic women. They are indispensable to images of deities and as burial objects, they reflect the wealth of the dead in the profane world. The plant motifs carry symbolic significance: the oak represents strength, the evergreen laurel signifies eternal glory, and the climbing ivy stands for persistence.
Leaf motifs were initially replaced by stylised acanthus leaves. The crown-like headbands, adorned with symmetrical tendrils and ornaments of corals, pearls and precious stones, were intended exclusively for the nobility.
In the Middle Ages, only delicate hairbands or strings of pearls – sometimes combined with crowns – were worn on the head. Diadems and tiaras went out of fashion in subseqent centuries. In their place, single brooches – mainly trembleuses – were set directly into pinned-up hair or worn on a thin band in the form of an aigrette. (3)
Following the end of the 18th century, hair accessories in general and diadems in particular were popular again. Important social events were unthinkable without them.
The revival of interest in antiquity in the early 19th century is also evidenced by the use of corals (1) and cameos as decorative elements on tiaras. Every renowned jeweller of the time produced tiaras according to demand, relying on classic floral motifs (2) or traditional folkloric forms reminiscent of stylised Russian hairdresses (5).
Technical developments in the mid-19th century made it possible to use platinum as a base material in the production of jewellery, replacing amalgams of silver (for jewel settings) and gold (for construction stability), which had been common until then. (6, 8)
As before, it was members of leading aristocratic houses who commissioned such jewellery. (7) By the mid-19th century, newly wealthy members of the bourgeoisie who profited from industrialisation were also placing orders. Nowadays, it is celebrities around the world whose images cover glossy magazines.
Today, weddings, ball evenings and invitations to exquisite events offer ample opportunities to wear tiaras. In order for tiaras to be worn in different ways, many of them can be dismantled and converted into brooches or necklaces. (4) Contemporary jewellery designers continue to create magical, princess-like tiaras for the brides' "big day". (9)
INFORMATION about the AUCTION
Auction Date: 5 June 2019, 1 p.m.
Location: Palais Dorotheum, Dorotheergasse 17, 1010 Vienna
Exhibition: from Saturday, 25 May
View now the auction catalogue and read our new myARTMAGAZINE!