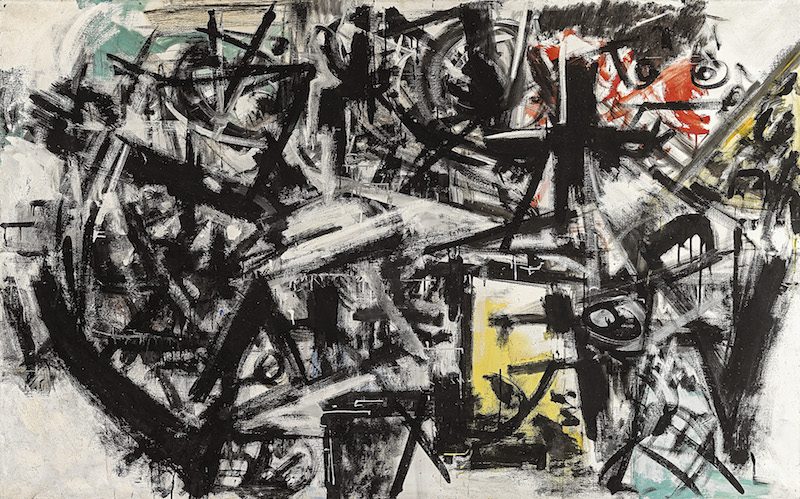 Our upcoming auctions in May will feature numerous notable highlights!
We can already begin to peak your curiosity by sharing a few of the highlights from our second Auction Week in May:
Along with his contemporaries, works by Lucio Fontana are among the top lots. Two of Fontana's fantastic paintings from the 1960s, in pink and green will be for auction. His "Concetto Spaziale" revolutionized traditional painting by slitting the canvas and thus bringing it into the third dimension. Emilio Vedova, for whose works the Dorotheum holds the world record, will also be represented with two artworks, both of which were on display at the Venice Biennale in 1962. Other prominent highlights include an abstract painting by Philip Guston, the screen-print "Two Diane Keaton" by Andy Warhol and a two-meter mirror object by Adolph Luther.
We are also thrilled to be auctioning pieces by Yayoi Kusama, Gerhard Richter, Anselm Kiefer, Ludwig Wilding, Georg Baselitz, Arnulf Rainer, Maria Lassnig, Stephan Balkenhol, Gotthard Graubner and Katharina Grosse. Among other items, a large-scale work by Jesus Rafael Soto will be on offer, from the collection of the important Italian object artist Gianni Colombo.
Lucio Fontana, Concetto Spaziale "ATTESA", 1964–65 signed and titled on the reverse, waterpaint on canvas, pink, 46 x 38 cm, estimate €480,000–650,000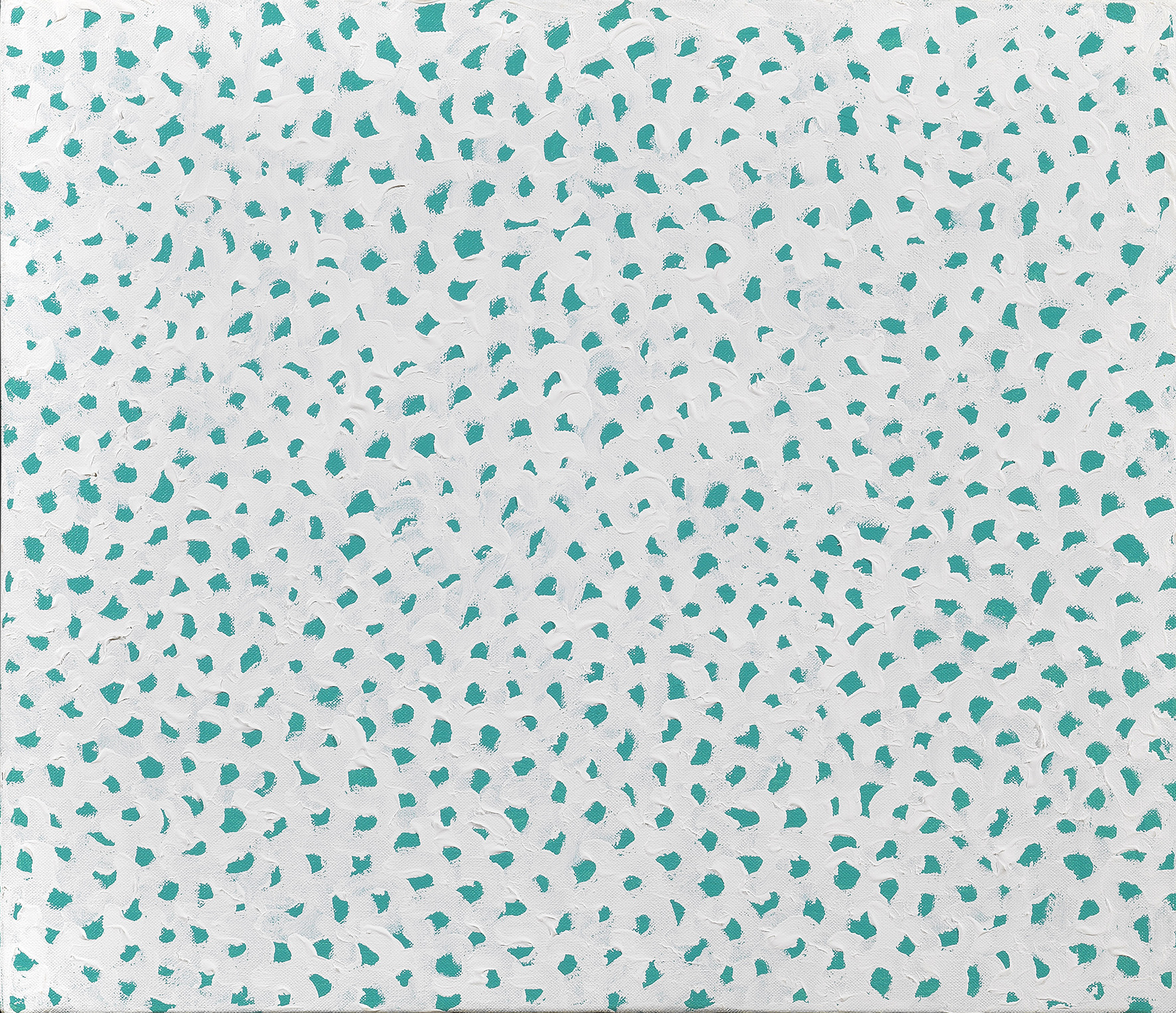 Yayoi Kusama, Nets 21, 1997, signed, dated and titled on the reverse Yayoi Kusama 1997 Nets 21, acrylic on canvas, 45.6 x 53 cm, framed, estimate €100,000–140,000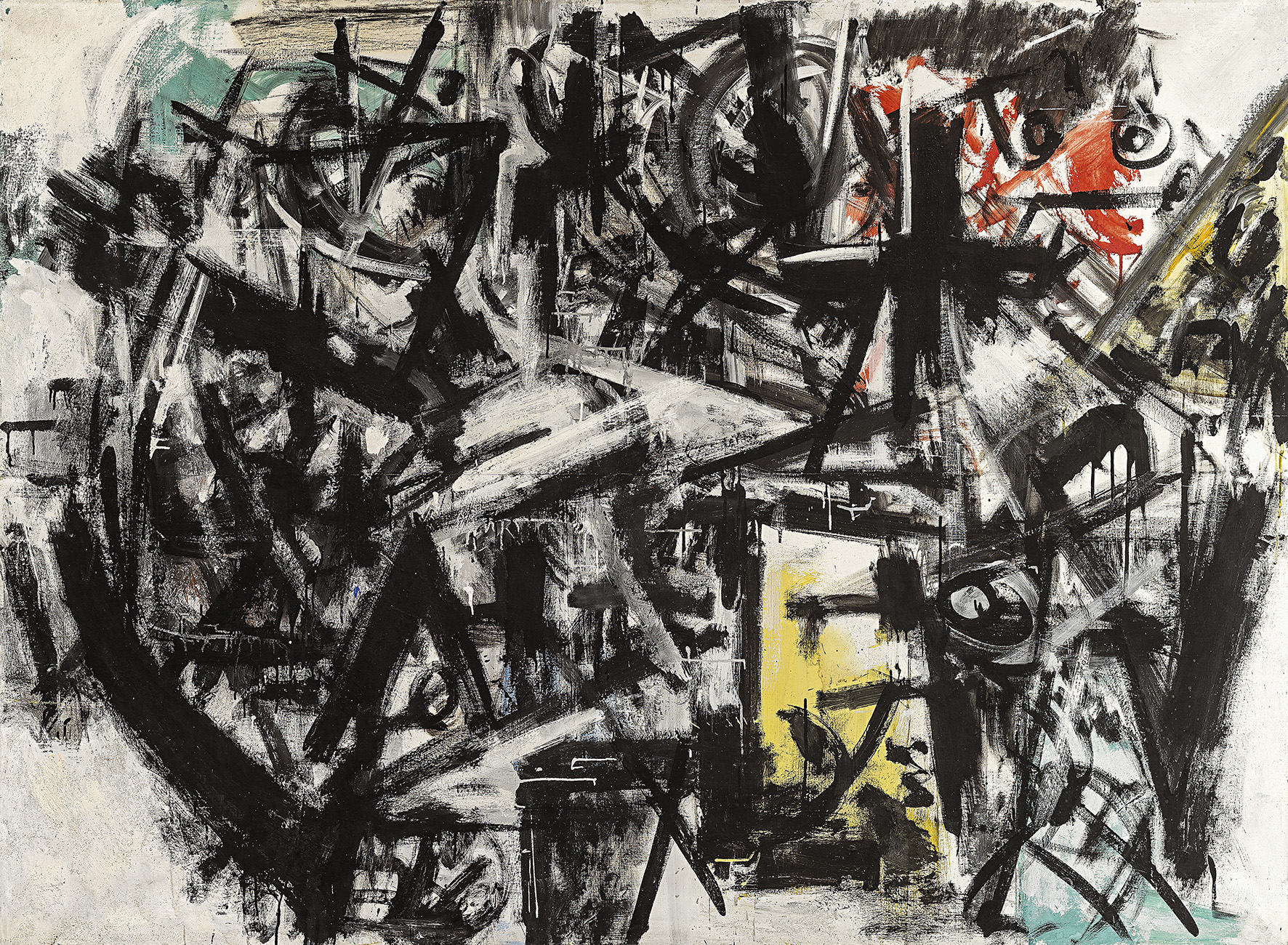 Emilio Vedova, Per una protesta No. 6 Dal ciclo della protesta, on the reverse signed, dated and inscribed Vedova 1953 Italia, oil on canvas, 140 x 190 cm, framed, estimate €280,000–380,000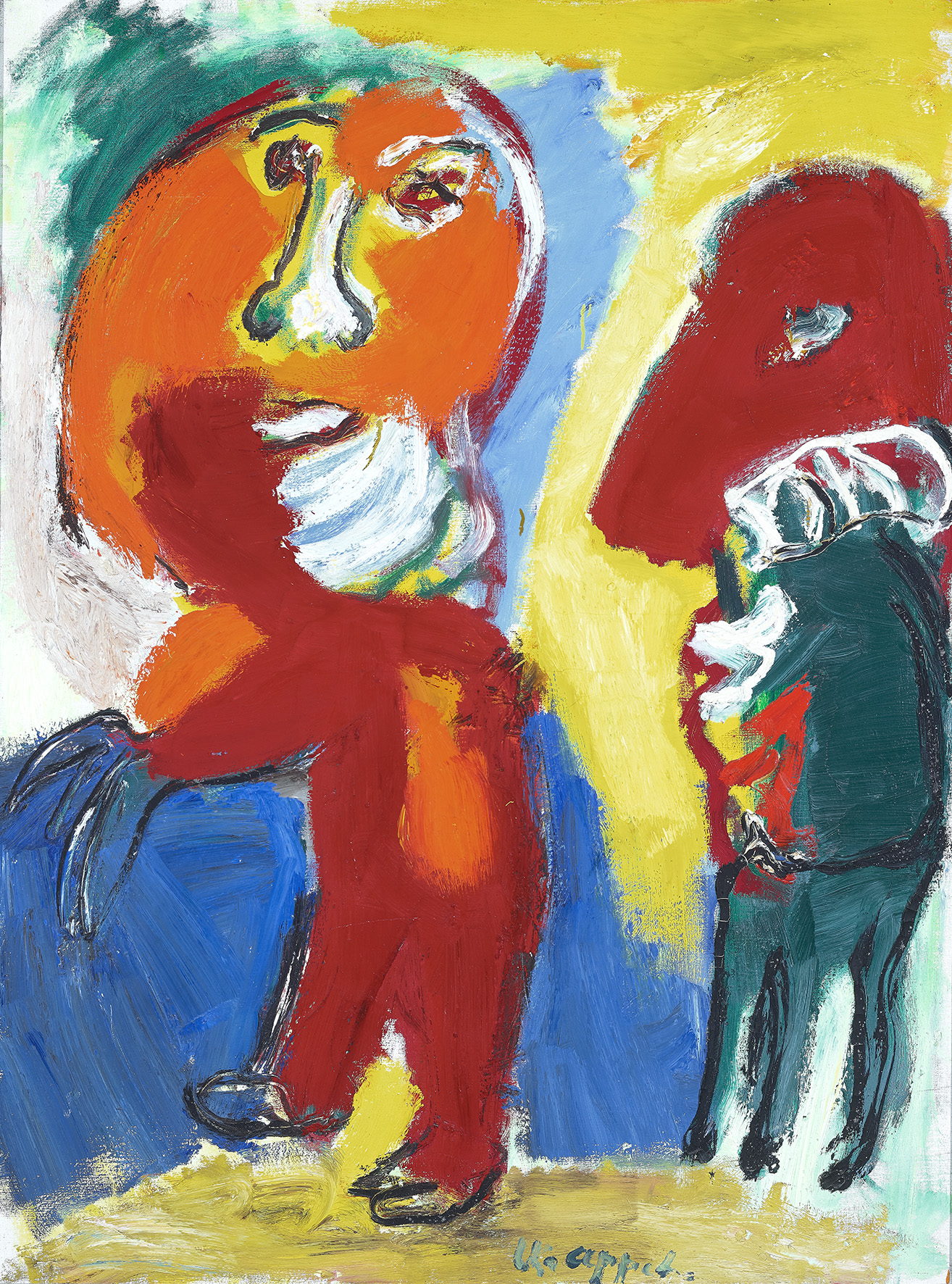 Karel Appel, Bon Homme de la Lune, 1963, signed K. Appel, signed and titled on the reverse, on the stretcher: Bon Homme de la Lune Appel, oil on canvas, 130.5 x 97 cm, framed, estimate €100,000–120,000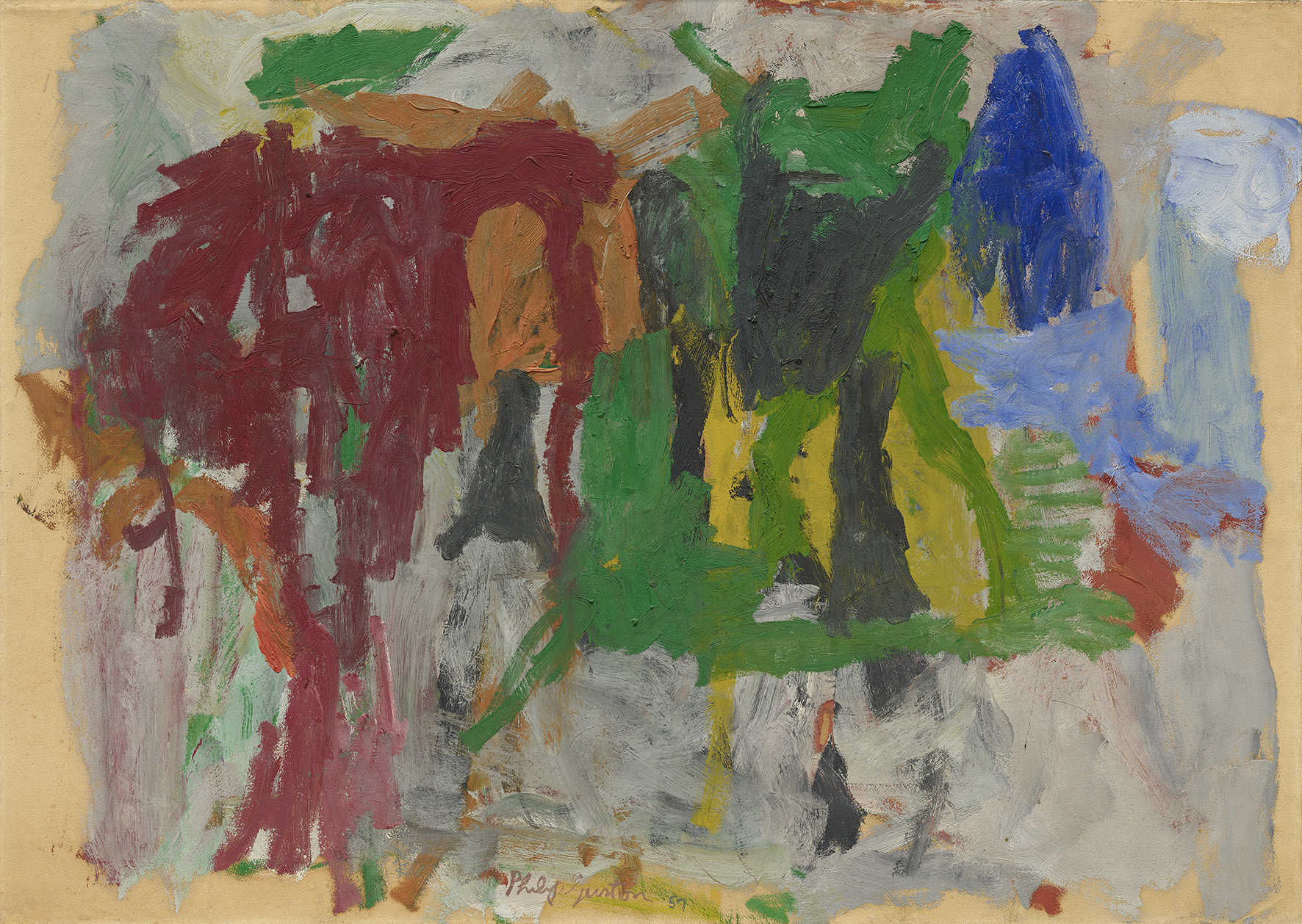 Untitled, 1957, oil on paper on Masonite, 63.5 x 88.9 cm. Estimate €300,000-400,000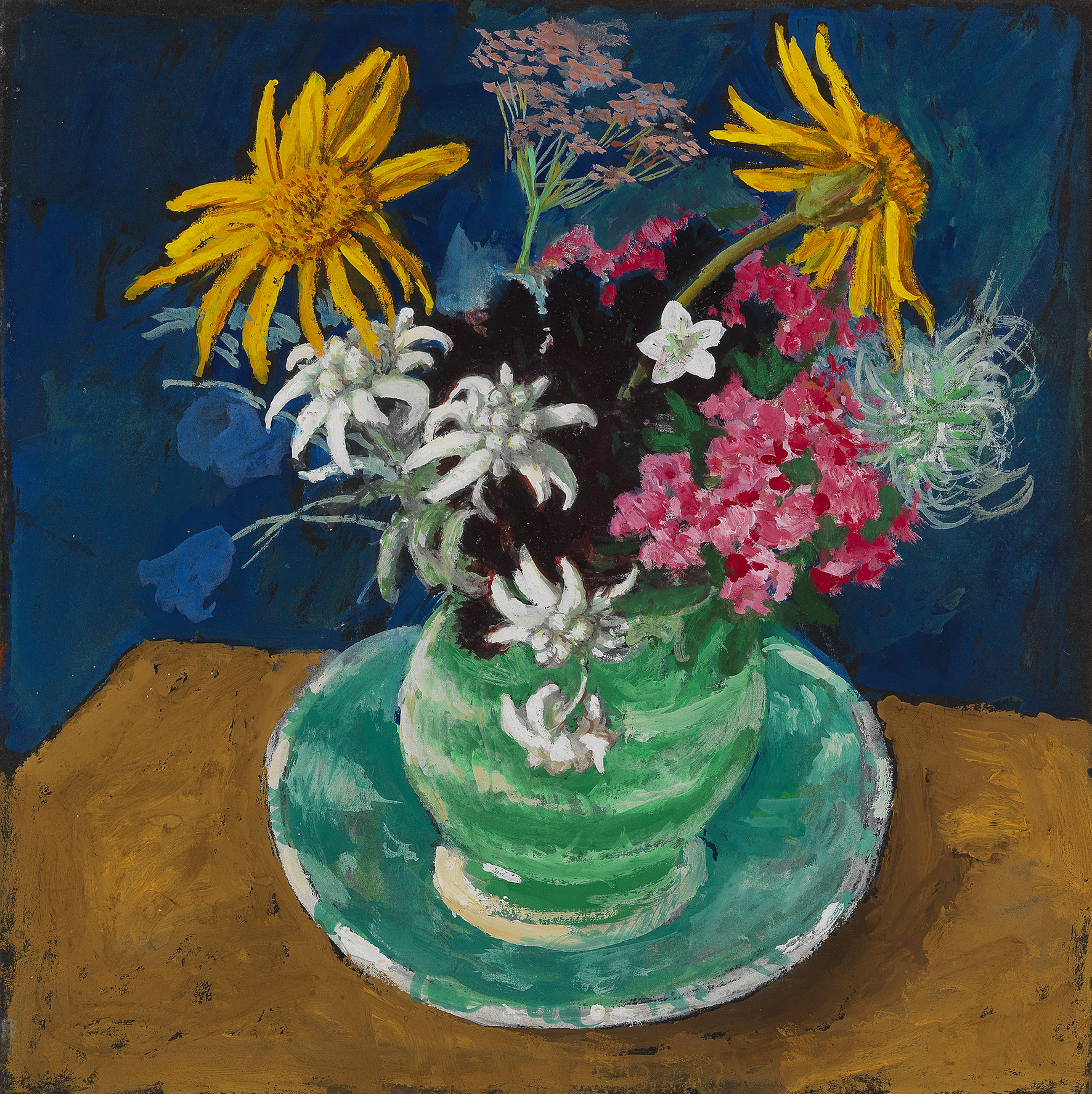 Alfons Walde, Alpine flower bouquet, tempera oil on cardboard on hardboard, 25 x 24.9 cm, estimate €45.000–60,000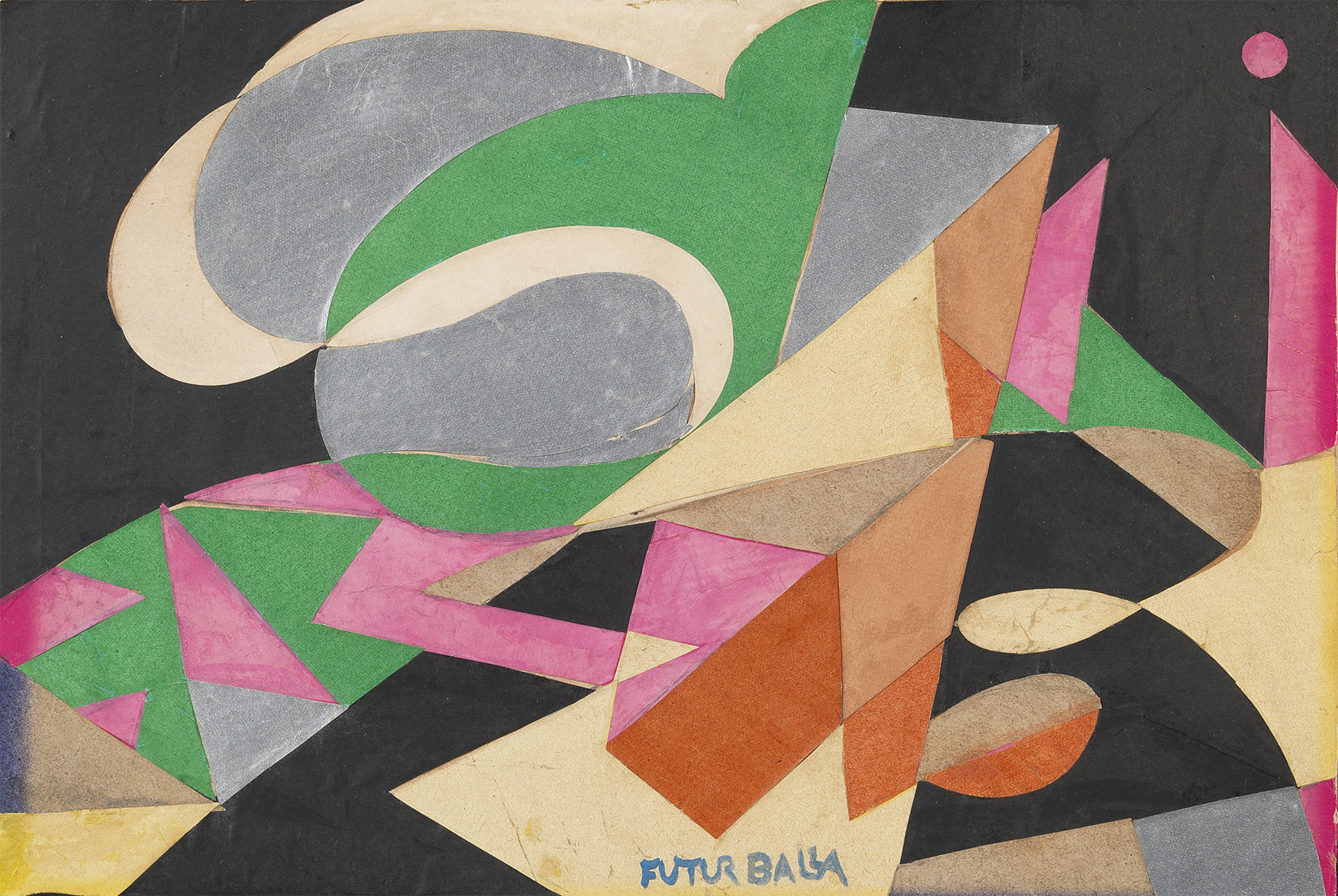 Giacomo Balla, Motivo con la parola FAZZOLETTI, c. 1916, collage of coloured and silver paper on cardboard, 21.5 x 31.5 cm, estimate €30,000–40,000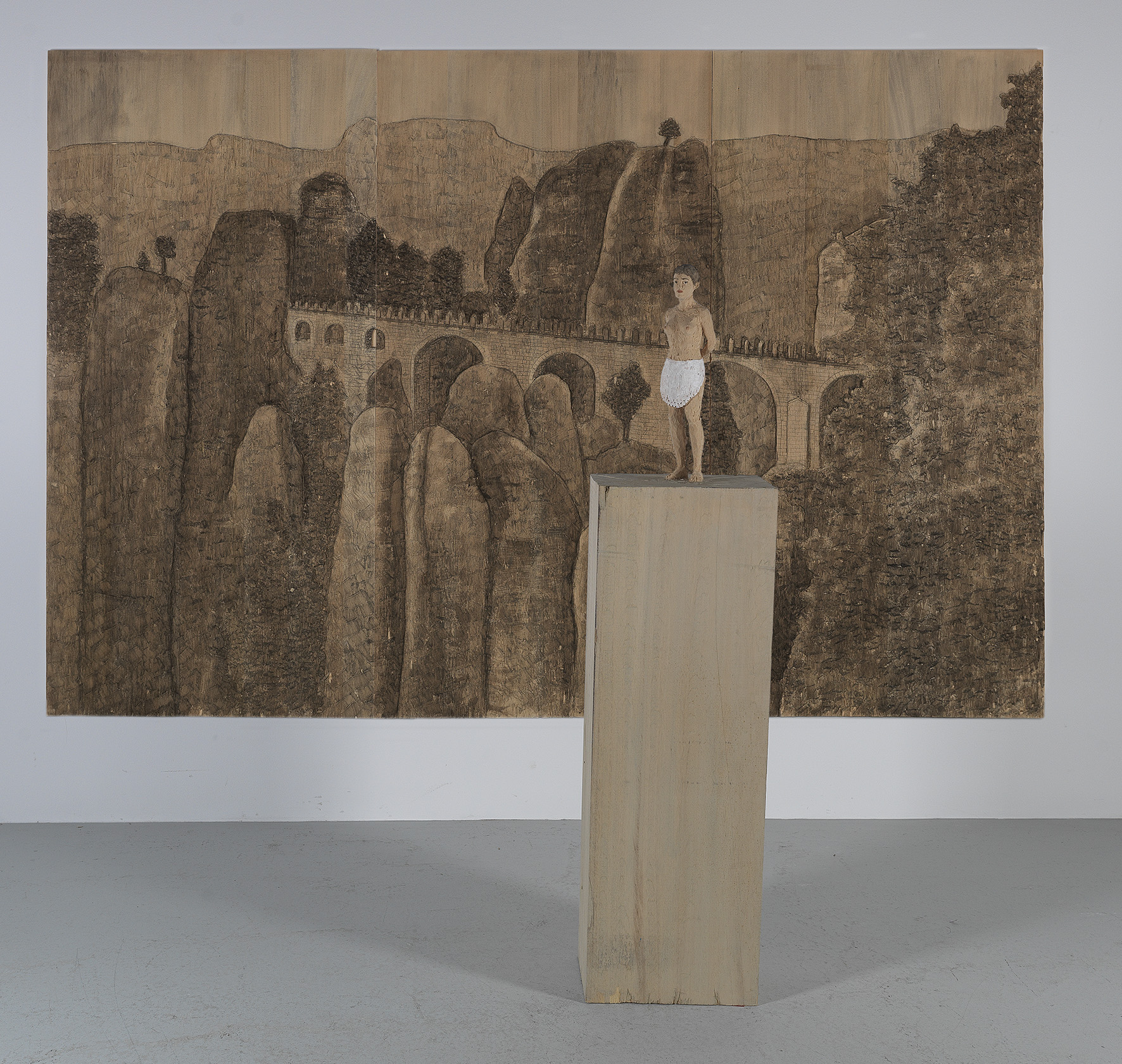 Stephan Balkenhol, Sächsische Schweiz, Akt mit Schürze, 2007, ayous wood, paint, 200 x 300 x 3 cm, €50,000–70,000
Viennese Modernism
At the modern art auction, there will be a special focus on 2018 as the centenary of the deaths of Egon Schiele, Gustav Klimt, Otto Wagner and Kolo Moser.
Coming from a private Austrian collection, a fantastic 1914 work by Egon Schiele will be for up for sale. There are artworks on both sides of the page, on the front a "kneeling female nude", on the back a "reclining female nude".
We are also excited to be offering a pencil drawing by Gustav Klimt, the sponsor and friend of Schiele, called "reclining female nude". Kolo Moser's design drawings for the windows of the church on Steinhof – one of the most important Art Nouveau buildings in Vienna, will also be included amongst the auction lots.
Additionally, we will be auctioning paintings by Giacomo Balla, Edward Cucuel, Wilhelm Thöny, Alfons Walde, a drawing by Edgar Degas and a sculpture by Fritz Wotruba.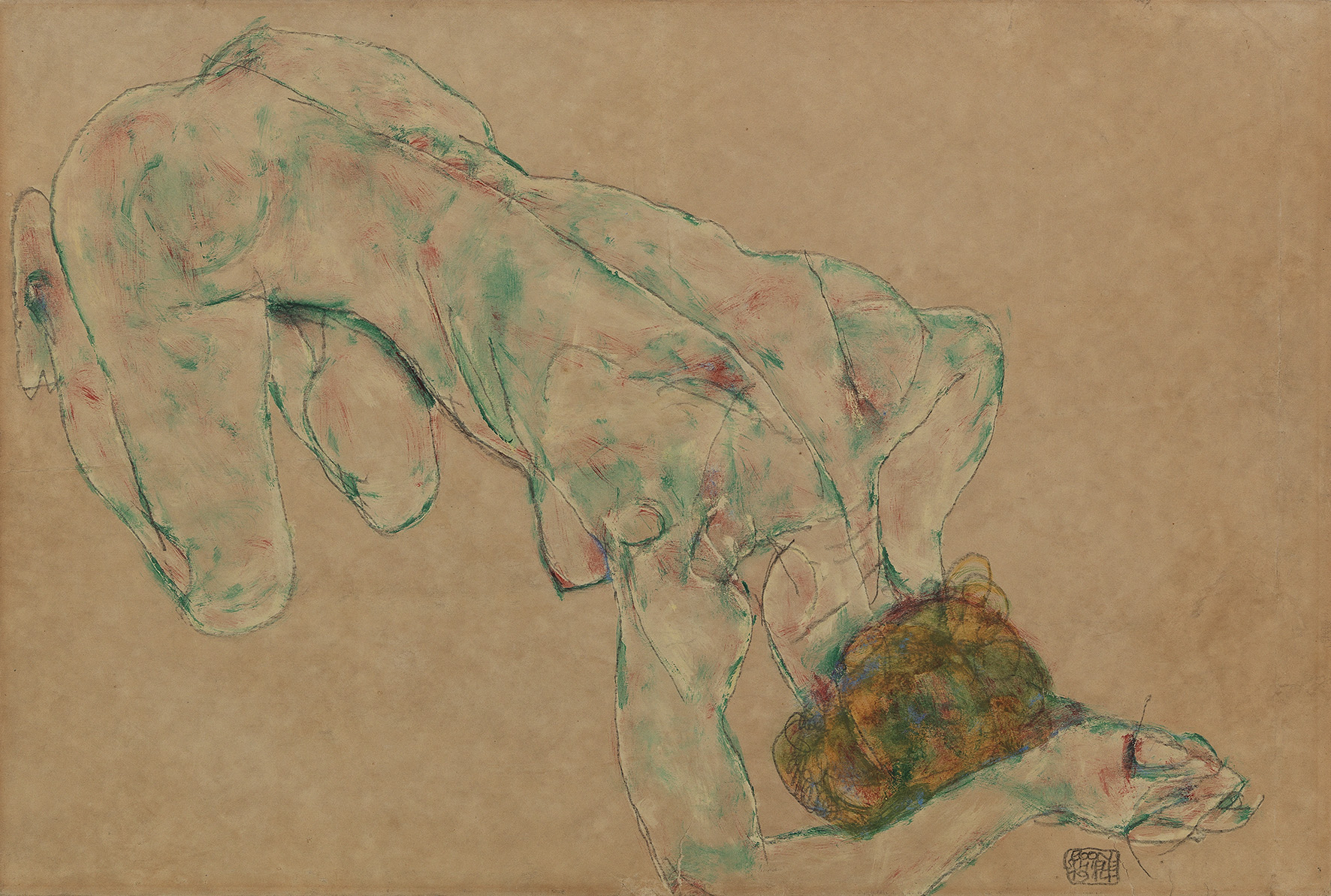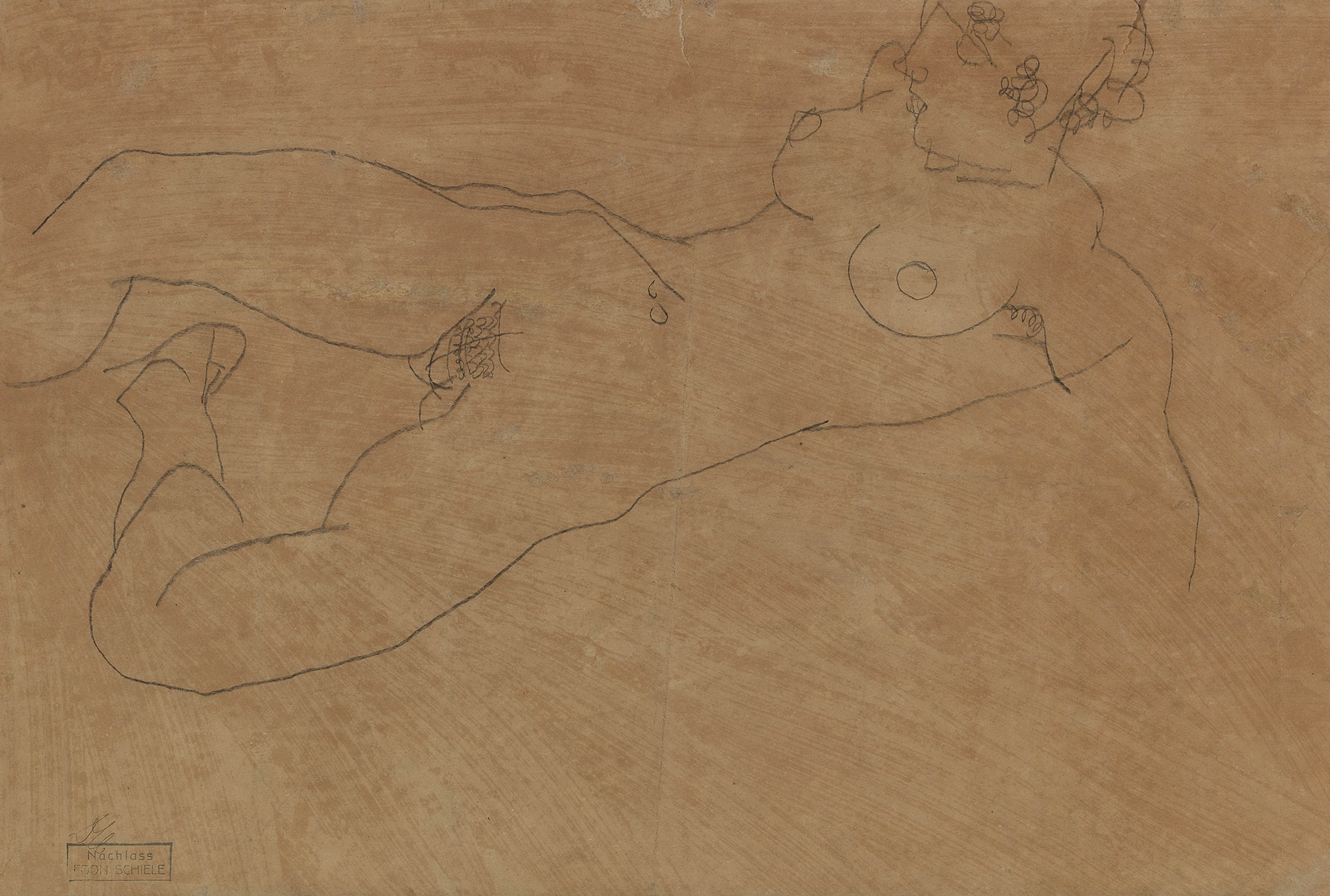 Egon Schiele, Kneeling female nude, signed, dated Egon Schiele 1914, pencil drawing coloured by another hand, on the other side: reclining female nude, 1914, stamp: Nachlass Egon Schiele, pencil on paper, sheet size 51.3 x 46.5 cm, framed, estimate €350,000–500,000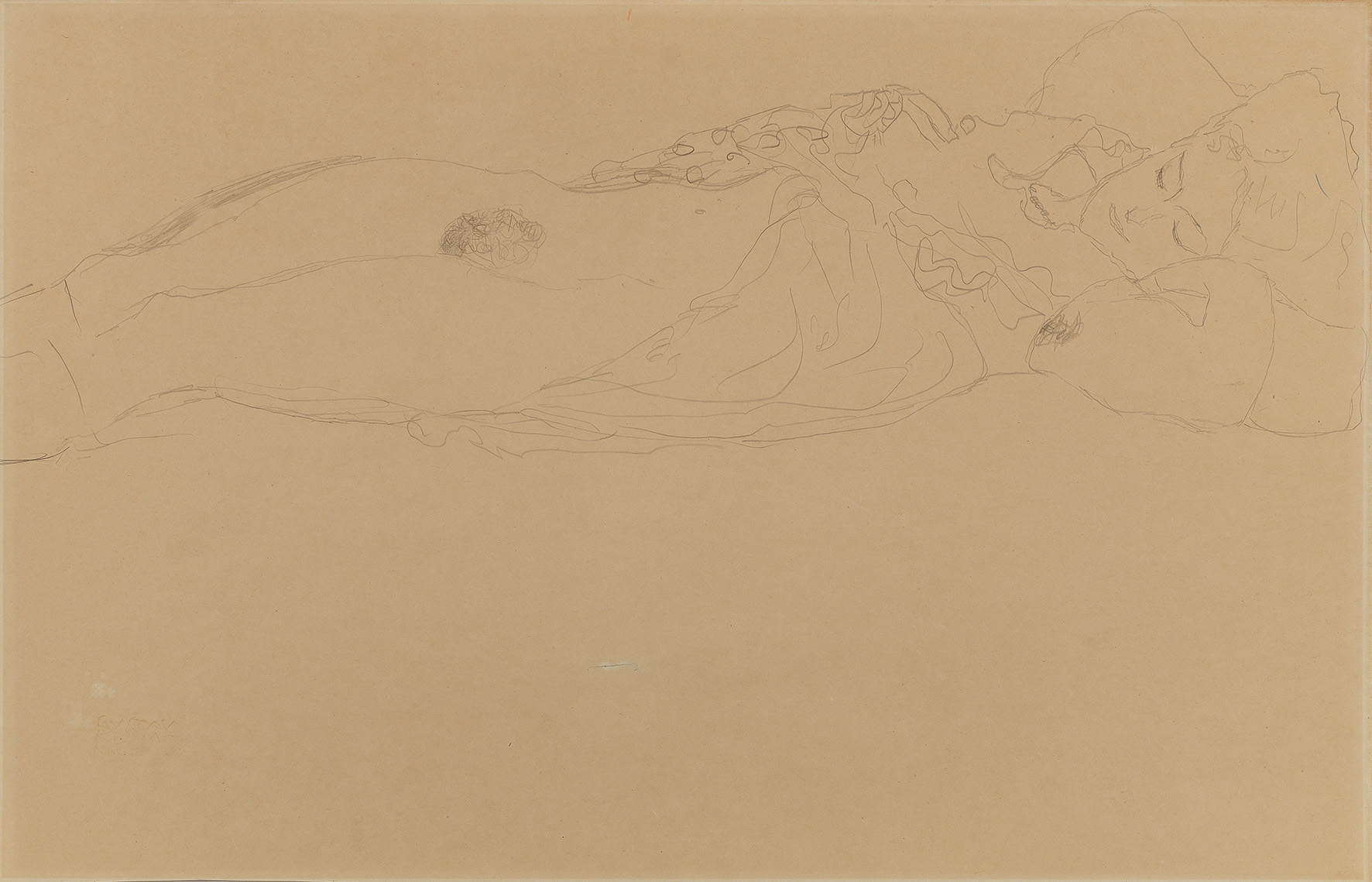 Gustav Klimt, Reclining female semi-nude, 1914/15, pencil on paper, 35.6 x 55.6 cm, €38,000–58,000
Modern Art Auction: 15 May 2018
Contemporary Art Auction: 16 and 17 May 2018