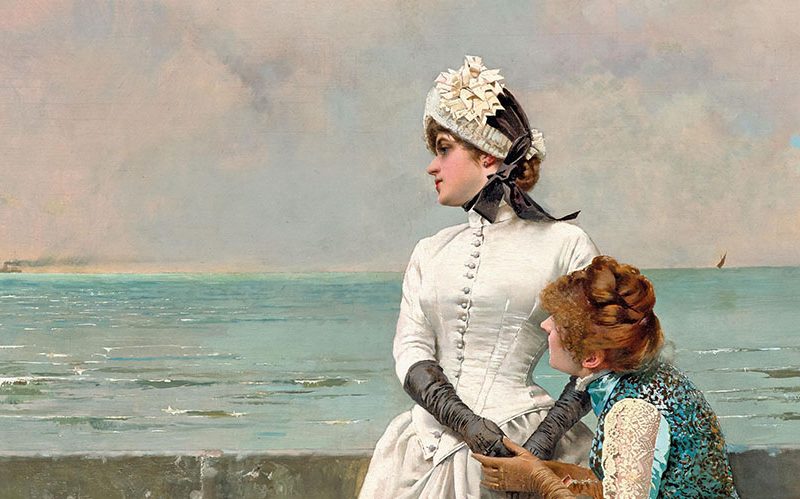 Dis-moi tout!
Vittorio Matteo Corcos is renowned for his portraits of elegant 19th-century Paris society ladies, whose beauty he captured in minute detail. The painting to be auctioned at Dorotheum on 24 October 2018 earned him great popularity beyond Europe, particularly with American collectors.
A journey begins
When he painted "Dis-Moi Tout!" (Tell me everything!) in 1883, Corcos (1859–1933) was working for the French art dealer Adolphe Goupil. Goupil & Cie was founded in 1861 and later renamed after Goupil's two sons-in-law, Boussod and Valadon.
The painting was acquired by Vincent's brother Theo van Gogh for the Goupil gallery; it formed a diptych with "Nous verrons!" (We shall see). Both works were the same size and were subsequently sold to the American dealer Charles Field Haseltine.
In 1884 the gallery Boussod, Valadon & Cie produced color reproductions of the two paintings to appeal to a larger audience. Corcos thus reached international exposure among the growing group of wealthy American collectors visiting Paris.
Vittorio Matteo Corcos
Corcos studied at the Academy of Fine Arts in Florence and in Naples under Domenico Morelli. He lived in Paris from 1880 until 1886, where he met Edouard Manet, Edgar Degas and the Italian expatriates Giuseppe De Nittis and Giovanni Boldini, who would influence him greatly. He was also inspired by Leon Bonnat, portrait painter of the Parisian bourgeoisie, and established himself as part of the elite circle. He signed a 15-year contract with Goupil who sold many of his pictures to European and American collectors. He quickly made a name for himself as the "peintre des jolies femmes". His Parisian period can be considered as his best. With their strong sense of composition and accomplished technique, his works were the most sought after of the time.
Corcos at Dorotheum, no secret!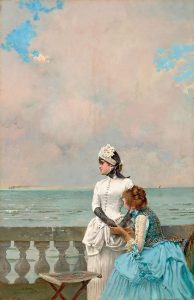 In the present lot, Corcos captures two young beauties in a moment of emotion. A young lady standing on a seaside terrace is looking at a boat in the distance which is presumably taking away her beloved man, while her friend is holding her hand. They are beautifully dressed in Belle-Époque fashion clothes. Full attention is given to the depiction of the dresses with their sumptuous satin fabrics.
Corcos returned to Italy in 1886 with his reputation established. Through his marriage to Emma Ciabatti, widowed Mrs Rotigliano, in 1887 he came into contact with intellectuals such as Gabriele D'Annunzio. His portraits were well-received in Florentine society and aristocratic circles, which were the source of many commissions. He is considered one of the most recognized turn-of-the-century Italian portrait painters.
Stroll with us through the 19th century painting's exhibition!
AUCTION
19th Century Paintings
24 October 2018, 5 pm
Palais Dorotheum
You want to find out more about 19th century paintings at Dorotheum?
Browse the online catalogue or visit the Palais Dorotheum, stroll through the exhibition and have a coffee and cake at the Dorotheum Cafe!