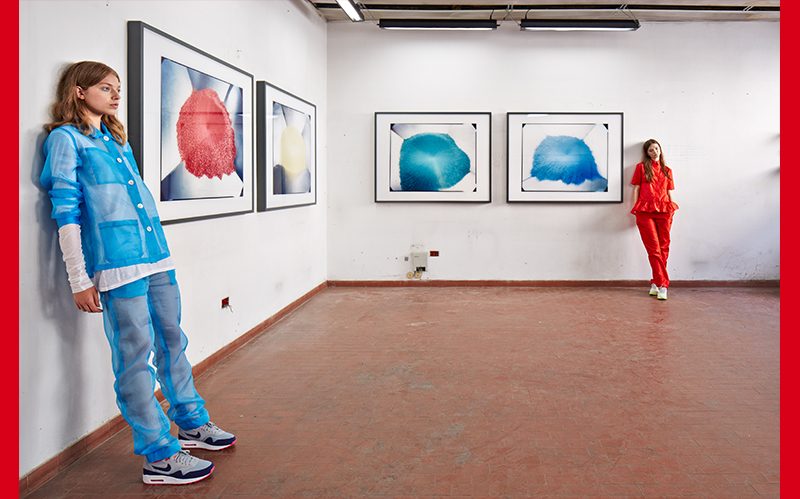 SUPERLATIVES ARE NOT ENOUGH
Hardly any other fashion designer is as strongly influenced by art as Arthur Arbesser. The Milan-based Viennese fashion designer's work is characterised by print, geometry, vivid colours and a strong emphasis on extraordinary quality of material. A portrait.
by BRIGITTE R. WINKLER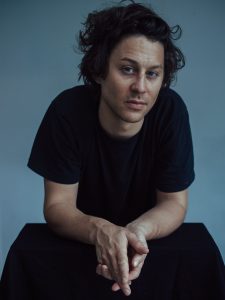 Hurrah for superlatives! To do Arthur Arbesser justice you constantly need them. The young Viennese fashion designer had only just founded his own label when Italian "Vogue" picked him as newcomer of the year. The "Who is On Next" jury included Suzy Menkes, the icon of worldwide fashion reporting who, in the process, got to know and love Arbesser and his work. In 2014, she wrote about that year's collection in the "Herald Tribune" (now "New York Times International"): "I haven't seen a better fashion show in 40 years."
Her praise set off an avalanche of attention from the international fashion press. But what was it about the presentation they found so enticing? Well, everything! The location was the wonderful private home of art aficionado, architect and curator Luca Cipelletti, whom Arbesser had met only shortly before – the unequivocal bond between fashion design and art. For example: Trousers were showcased next to a photo of a "slash painting" by Lucio Fontana with a meticulous accuracy that made their silhouette appear perfectly aligned with Fontana's slashes across the canvas. The correlation between interiors and outfits ran as a thread of consistency throughout the presentation, utilising every room of the beautiful house. The models, too, seemed carefully handpicked to accentuate the effect – a simple look, puristic and yet special. Add to that the wonderful materials. You simply yearned to own every single outfit.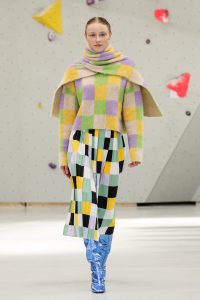 "And what now?" they asked as the next season rolled around. Can he top the success? Arthur Arbesser could and can. Not surprisingly, part of his "Eine Wiener Garderobe" autumn collection, which he designed for the Vienna Tourist Board, was subsequently exhibited at Vienna's Leopold Museum as part of "Egon Schiele RELOADED", including fashion photos by Elfie Semotan with Austrian top models Cordula Reyer and Helena Severin, two of Arbesser's absolute favourites. The collection was inspired by Koloman Moser and Josef Hoffmann, and the fabrics used were produced by local textile manufacturer Backhausen.
But how did Arbesser get into fashion in the first place? "This comes from an innate basic interest in fashion, in dressing up, dressing differently, becoming a different
person with a change of outfit", Arbesser explains in an interview for Dorotheum's MyART MAGAZINE. He studied fashion at the renowned St. Martins College in London and applied for jobs with leading Milan fashion houses straight out of school. Arbesser had been drawn by the Italian fashion métropole ever since visiting Milan-based Viennese designer Onka Allmayer-Beck, and he was fortunate to get hired almost straight away by one of the fashion world's all-time greats, Giorgio Armani. He quickly proved successful at Armani. He was praised, paid well, promoted from intern to senior designer and had plenty of free time to boot.
And yet there was something missing: the freedom to realise his own ideas. After having worked side by side with the fashion icon for seven years, Arbesser parted ways with Armani. He sacrificed the safe bet to go solo, without any guarantees that he would ever succeed. In 2012, he launched his solo career with a modest presentation of his own label in a Milan store owned by friends, but from that point on, he swiftly rose from being an up-and-coming talent to Milan's "most exciting designer" (as an Austrian daily dubbed him). He developed his own unmistakable signature, strongly influenced by his Viennese roots and his parents' devotion to arts and culture. The emphasis on quality is felt with every collection launched, and he continues to integrate artists in his work, such as 29-year-old Agathe Singer, an illustrator who lives in Paris. Prints must be simple, and geometry rigorously applied, especially stripes. The stringency is sometimes broken, for example by a golden thread in a knitted sweater that forms a pattern reminiscent
of the Viennese wickerwork known from Austrian Thonet chairs.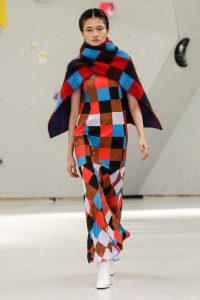 Early on, Arbesser established a number of commercial partnerships with Iceberg, Silhouette, Absolut Wodka and YOOX. In 2017, he was hired as chief designer by the Italian fashion brand Fay, famous for its "Quattro Ganci" sports jackets with four hook fasteners, and a subsidiary of the Diego Della Valle empire. Arbesser's first Fay collection, "Ready for Departure", was met with raving reviews. So very Fay-ish and yet completely new!
With success comes demand, and Arbesser
is now a busy man. He receives requests to design everything from hotel uniforms to the tapestry for a Viennese chapel. He has accepted commissions to dress the Vienna State Opera ballet for the New Year's Concert, design the official hand fan for the Vienna Opera Ball and provide the hostess outfits for the annual Romy movie and television award show.
He has also completed his 2019 autumn collection, which was presented in February during the Milan Fashion Week – again outdoing himself. The collection was praised for its refined simplicity and the use of special fabrics by Backhausen. The launch venue, of course, was the perfect choice: a huge and colourfully decorated climbing hall with a distinct air of art gallery about it – as if Arbesser himself had designed it for the purpose.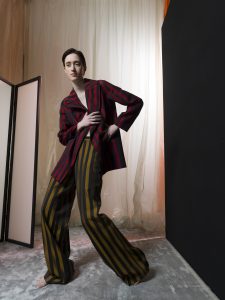 Fay's "In the Cloud" presentation show indeed did convey a sense of floating freely in space. "I love the quality of this brand and like to wear it myself", says Arbesser.
So, what's next for the young designer? "I have the February 2020 production of 'Der Rosenkavalier' at the German State Opera in Berlin in my calendar to look forward to. The New Year's Concert was a very positive experience through and through."
Another great accomplishment was his shortlisting for the prestigious LVMH Prize, which followed shortly after he'd won Vogue's "Who is On Next" award. A total of 1,000 young designers submit works for the LVMH Prize every year, but only ten are shortlisted for the final, handpicked by renowned experts such as Karl Lagerfeld, Haider Ackermann and Dior chief designer Maria Grazia Chiuri. In 2018, Arbesser also received the Austrian "outstanding artist award" for experimental fashion design, which comes with a 10,000Euro cash prize – money that he will invest in his own fashion label. When he worked with Armani, the money usually flowed elsewhere, often into art.
"I enjoyed going to Dorotheum with my parents even as a teenager. They are both loyal customers. Dorotheum is a Viennese institution that I grew up with, and with my Armani salary I have acquired a good deal of paintings and crystal at Dorotheum. At the moment that money faucet is turned off, but when I'm in Vienna I still drop by when works from interesting artists are auctioned off at Dorotheum. At least I take a good peak at the opening price", Arbesser says.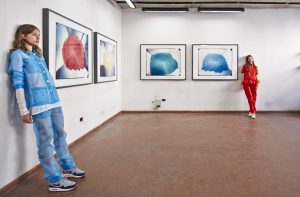 Does his career leave any time for private life? Well, not as much as when he worked with Armani, he says. But he fits in what's possible. For example, a close friend of his, a medical doctor with a hectic work life of his own, always manages to find time to support Arbesser backstage at his fashion shows. His presence has an important grounding effect on Arbesser, somehow always managing to bring him back from the peaks of artistic highs or valleys of frustration to the level ground of reality simply by talking about his work. "He works with leukaemia patients. In the light of that, everything else seems so unimportant", says Arbesser.
brigitte R. Winkler is a Vienna-based art historian and fashion journalist who works, among others, for Austrian daily "Kurier". She hasn't missed an international fashion show in 40 years.